McCormack Students Talk Equity, Access, and Succes
McCormack Students Talk Equity, Access, and Success at DOSS Town Hall
---
01/24/2023
| David Hackett
The Dean's Office Student Success (DOSS) program hosted its annual DOSS Town Hall last December. Representative of the McCormack School's community engagement and communal decision-making, DOSS Town Hall meetings allow members of the McCormack community to come together to ensure that all voices—students, faculty, staff, alumni, and community members across McCormack—can be heard. In the hopes of stewarding an inclusive path of development for the school, the Town Halls are moderated by DOSS Ambassadors, who design the event's itinerary, publicize the event, and assist in the proceedings.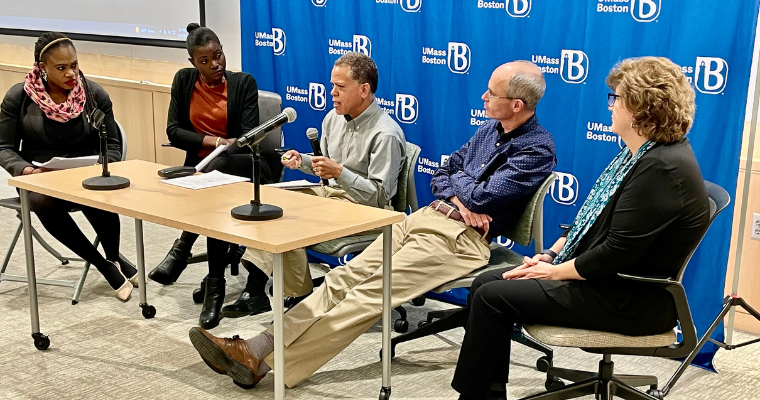 " We are enthused with the University's new trajectory and feel that it aligns strongly with McCormack's longstanding mission "
The fall Town Hall's theme entailed "What Student Access, Equity and Success Mean to McCormack Students," highlighting how to best support students in McCormack's many degree programs. This perspective has been a long-time emblem of UMass Boston's approach to student success and has become formalized in the University's new strategic plan, "For the Times."
The event commenced with opening remarks from McCormack's Dean, Rita Kiki Edozie. Edozie mentioned that student success at McCormack "ranges from academic support and the provision of internship and research opportunities to current students to post-degree career support and "professional networking opportunities." Edozie observed that DOSS's priorities align with those of the many academic support structures across UMass Boston, which have demonstrated a matched commitment to ensuring holistic student success across campus—a commitment that has only become more relevant with Chancellor Marcelo Suárez-Orozco's "For the Times" strategic plan. Dean Edozie also noted that the creation of DOSS in 2018 marked a "transformative year" for McCormack, pointing to DOSS's potency in "advancing student success and prioritizing the holistic well-being of students in the school's many concentrations."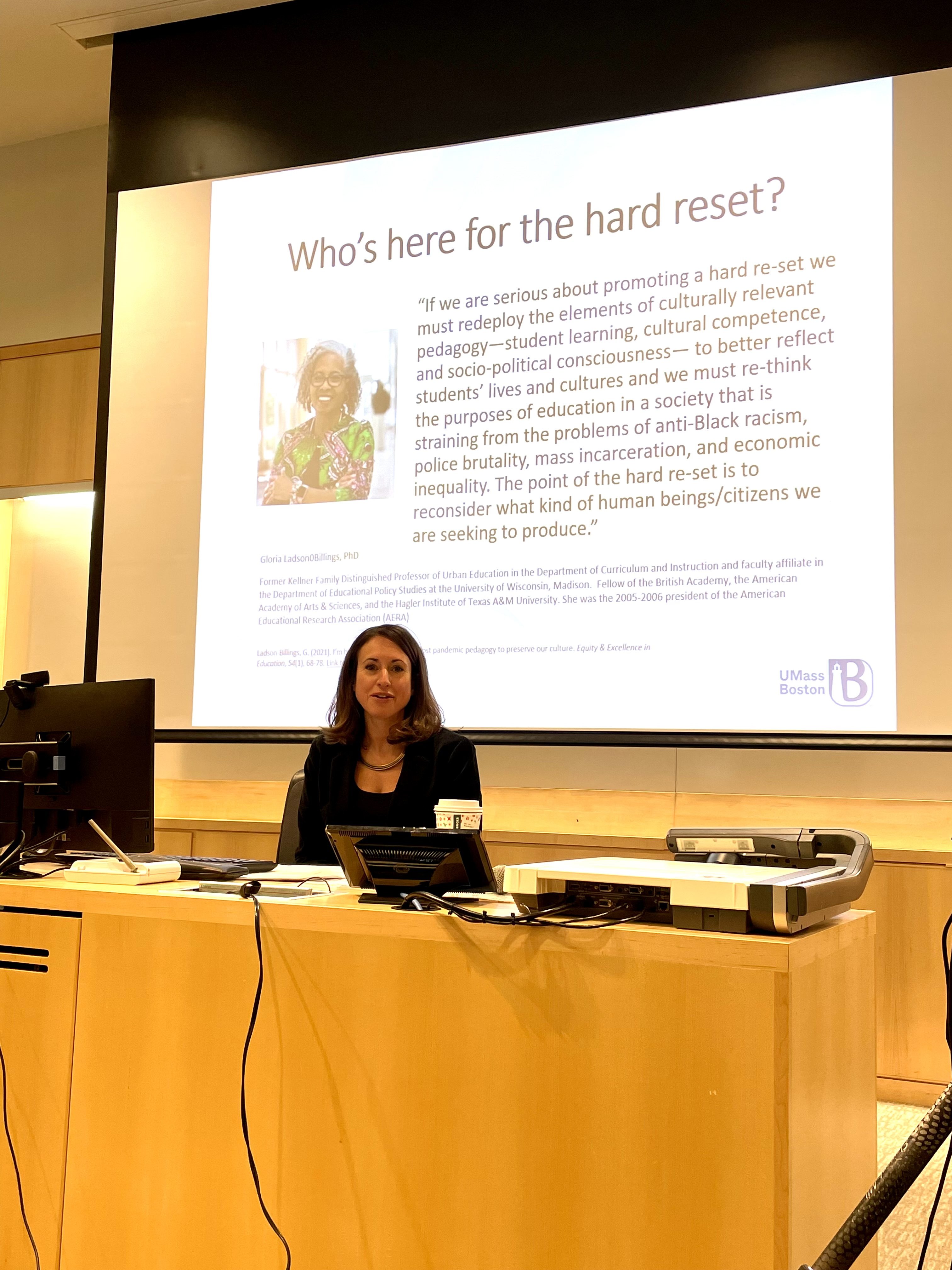 The event's keynote speaker, Dr. Liya Escalera, Vice Provost for Academic Support Services. Dr. Escalera discussed the "failure" of higher education to support students in a holistic manner and the importance of "transformative" higher education. Noting that universities often shift the blame for failures in higher education to the students themselves, Escalera delved into data surrounding enrollment and noted several staggering demographic trends regarding student success; she found that retention rates are lowest among first-generation college students and part-time students at the undergraduate level and observed the negative enrollment impacts of the COVID-19 pandemic on student retention across UMass Boston's various colleges.
With these findings in mind, Escalera emphasized re-evaluating the goals of Academic Support Services and Student Equity, Access, and Success (SEAS) in the context of student wellness. Escalera noted that "survival-based outcomes" of student retention and program completion required consideration in tandem with "thriving-based outcomes" of student experiences within academic programs, as well as a holistic sense of wellness, in order to ensure positive academic experiences and promote student wellness. Expanding on these considerations, Escalera introduced a restructured model of SEAS within Academic Support Services dedicated to more holistically meeting the needs of students. This is achieved through clear communication and advising assistance to embrace all aspects of student equity, access, and support.
The event also included themed discussion panels on holistic student wellbeing, finances and on-campus student support services. DOSS Ambassadors Janelle Fassi, Kelsey Edmond, Setarreh Massihzadegan, and Jiedine Phanbuh supported participants in-person and online while Ambassadors Rebecca Yemo and Adanna Kalejaye hosted a discussion panel with Professors Samuel Barkin, Ellen Birchander, and Michael Johnson. The panel focused on student success and funding security within McCormack. Ambassadors raised a variety of questions related to concerns like the prospect of academic reorganization, which were answered with reassurances from panel faculty and the Dean of minimal changes to student experiences within McCormack's programs. Ambassadors suggested enhancements for grant-writing support and securing external funding through the dissertation-writing phase of degree programs. In keeping with DOSS tradition, these candid and essential conversations help guide McCormack's trajectory as a student-driven and inclusive school.
The Town Hall also featured Lexia LaViolette from UAccess Food Pantry and Hassan Chehab from Boston-area NGO Discovering Justice. LaViolette advertised access to essential resources and student needs to individuals, while Chehab, a master's in international relations alum, presented paid internship opportunities at the Moakley Courthouse in the Seaport District of Boston to McCormack students looking to gain valuable experience strengthening civic and legal education for young learners in the area. Both features reflected McCormack's commitment to providing connections and opportunities for its students and emphasized the school's sensitivity to students' need for streamlined access to funding and resources.
The DOSS Town Hall builds on a tradition of student engagement at the McCormack School, aligning with the University's strategic goals for holistic student success. As McCormack's Student Success Manager, Dr. Christopher Graham, explains "since the creation of DOSS in 2018, the program has showcased significant progress in student success at McCormack: from connecting students with internships to the establishment a new student-led organization, the McCormack Scholars, many steps have been taken to expand students' voice, academic excellence, and agency." At McCormack, "we are enthused with the University's new trajectory and feel that it aligns strongly with the longstanding mission of the McCormack School" Dr. Graham expounded.
The primary themes brought to the fore at the Town Hall provide a basis for intra-university collaboration between McCormack and its neighboring UMass Boston schools and institutions. For instance, Dr. Escalera's presence at the Town Hall highlighted valuable insights on ensuring that student equity, access, and success are prioritized in a holistic manner, aligning with McCormack's definition of student success. The success of the collaboration between DOSS, the Dean's Office, and SEAS indicates a remarkable avenue for McCormack to connect with student support services across UMass Boston, including SEAS, the Academic Career and Engagement Center (ACES), and UAccess.

December's Town Hall is just one example of the many ways that McCormack provides a platform for student success and student voice. Meanwhile, the event highlights how holistic student support could be further strengthened through connections across UMass Boston. At McCormack, we look toward future DOSS Town Halls and other opportunities for McCormack to connect with faculty, staff, and the university with enthusiasm and interest in how we can better serve the Beacons who call McCormack—and all others on the Harbor Campus—home.