Students in East Boston Raise Climate Awareness by
Students in East Boston Raise Climate Awareness by Creating a Mural About Sea Level Rise
---
UMass Boston's School for the Environment Helps Make Science Cool While Educating Youth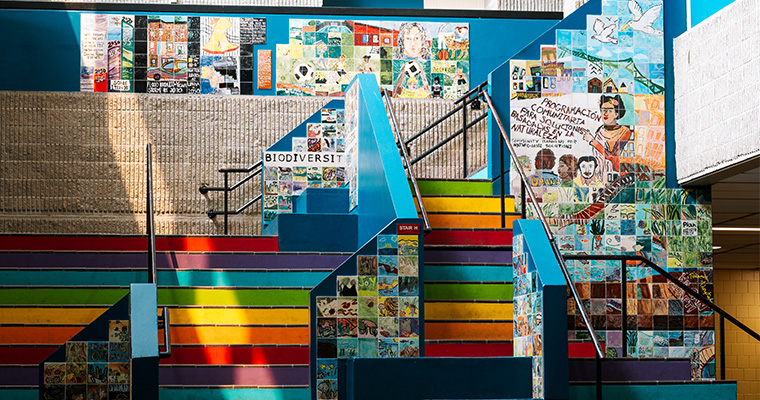 Image By: Javier Rivas
Umana Academy, a dual-language public K-8 school in East Boston, joined forces with Cool Science, an organization that uses youth art and science to deliver impactful climate education for adults. Together, they created the Sea Level Rise Mural, an impressive 600-plus tile bilingual mural that celebrates the community's strengths, while also depicting the urgent climate issues facing the area along Boston Harbor where the school is situated.
Umana's third through eighth grade students, art teacher Ardis Tennyson-Loiselle, students' families, and school staff worked on the mural throughout the 2022-23 school year. Guidance for the ambitious project came from the Cool Science team and was led by Massachusetts College of Art and Design Professor Emerita Lois Hetland.
The mural tiles are organized into nine themed panels. The panels display the role of biodiversity in sustainable and resilient ecological communities, the students' values such as inclusivity and respect, and the school's vulnerability to flooding. In a panel titled "We Can Adapt!" the tiles illustrate three key strategies the students learned about for mitigating flooding: 1) absorb (e.g., creating marshes), 2) elevate (e.g., putting structures on stilts or floats), and 3) construct (e.g., building nature-based berms and living seawalls).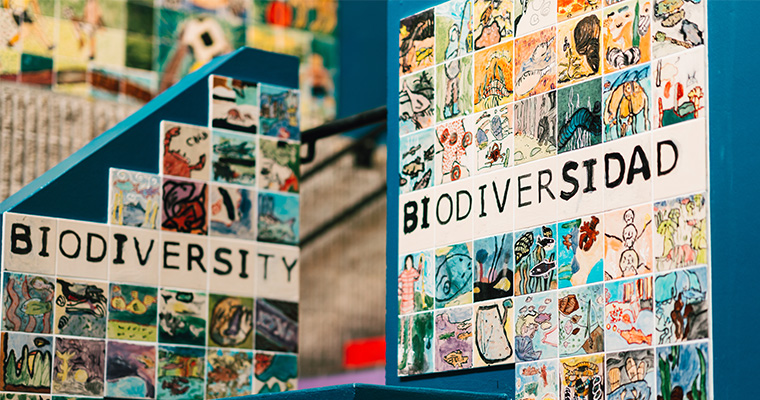 As they worked on the mural, students learned about climate issues facing their school, community, and East Boston. Communities like East Boston, which have a significant immigrant population situated in a location vulnerable to sea level rise and storm surges, are disproportionately affected by climate change.
A 2022 report from the Greater Boston Research Advisory Group (G-BRAG), a group led by scientists from UMass Boston's School for the Environment, predicted that by 2050, Umana Academy's fields and playgrounds will flood up to 12 inches, twice a day during high tide.
Bob Chen, Cool Science's Lead Science Expert, and a professor and the interim dean at the UMass Boston School for the Environment said, "The first step to understanding the impact and urgency of climate change is awareness, and a critical element of developing approaches to address climate change is hope. This mural project does both and is an example of how Cool Science engages and educates children through art and science, and the benefits extend to the broader community."
Finding ways to spread climate awareness to the community is essential. In their 2022 report Voices that Matter: Boston Area Residents of Color Discuss Climate Change, the Sustainable Solution Lab at UMass Boston found that when community residents know about risks, they are committed to addressing the challenges of climate change where they live.
"This is the focus we need on this existential issue facing us—educating and engaging at all levels," said Chancellor Marcelo Suárez-Orozco. "I commend Professor Chen and his collaborators for their fine work."
At the end of the school year, the completed Sea Level Rise Mural was installed around a colorful staircase in the school, a prominent area of Umana Academy that also serves as the site of a community food distribution program. The mural's presence serves as a powerful tool for educating the community and reinforcing the pressing issue of climate change, its impact, and ways to address it.
Cool Science is a collaboration among UMass Boston's School for the Environment and Urban Harbors Institute, Massachusetts College of Art and Design, UMass Lowell's College of Education and Art and Design Department, and additional organizations dedicated to the environment, education, and art.
The project was made possible through funding from the National Science Foundation.