Plan Your Education
How to Apply

Apply for Admission

Please review the first-year and transfer apply pages for important information about application requirements, deadlines, and application status check.

Financing Your Education

Become a Beacon and pursue your passion in UMass Boston's diverse, supportive environment. Many students across our 200+ undergraduate and graduate programs receive financial aid—providing access to an education that's exceptional and affordable. Click below to learn more about financial aid opportunities and deadlines.

Financial Aid Deadlines & Application Process

Scholarships for First-Year & Transfer Students
Required Courses

Required Computer Science Courses (38 Credits):

CS 110 - Introduction to Computing 4 Credit(s)
or
CS 210 - Intermediate Computing with Data Structures 4 Credit(s)
CS 220 - Applied Discrete Mathematics 3 Credit(s)
CS 240 - Programming in C 3 Credit(s)
CS 285L - Social Issues and Ethics in Computing 3 Credit(s)
CS 310 - Advanced Data Structures and Algorithms 3 Credit(s)
CS 341 - Computer Architecture and Organization 3 Credit(s)
CS 410 - An Introduction to Software Engineering 3 Credit(s) (this will be the capstone course for the major)
CS 420 - An Introduction to the Theory of Computation 3 Credit(s)
CS 444 - An Introduction to Operating Systems 3 Credit(s)
CS 450 - The Structure of Higher Level Languages 3 Credit(s)
CS 451 - Compilers 3 Credit(s)

Mathematics Courses (14 Credits):

MATH 140 - Calculus I 4 Credit(s)
MATH 141 - Calculus II 4 Credit(s)
MATH 260 - Linear Algebra I 3 Credit(s)
MATH 345 - Probability and Statistics 3 Credit(s)

Physics Courses (12 Credits):

PHYSIC 113 - Fundamentals of Physics I 4 Credit(s)
PHYSIC 114 - Fundamentals of Physics II 4 Credit(s)
PHYSIC 181 - Physics Laboratory I 2 Credit(s)
PHYSIC 182 - Physics Laboratory II 2 Credit(s)

Science Elective (3 to 5 Credits):
Take one elective from below.

ANTH 105 - Introduction to Biological Anthropology 3 Credit(s)
ANTH 317 - Human Epidemiology 3 Credit(s)
ANTH 432 - Archeological Science 3 Credit(s)
BIOCHM 300 to 499
BIOL 111 - General Biology I 4 Credit(s)
BIOL 112 - General Biology II 4 Credit(s)
BIOL 210 - Cell Biology 4 Credit(s)
BIOL 252 - Genetics 4 Credit(s)
BIOL 290 - Population Biology 3 Credit(s)
BIOL 378 - Introduction to Immunology 4 Credit(s)
CHEM 111L - Environmental Concerns and Chemical Solutions 3 Credit(s)
CHEM 115 - Chemical Principles I Lecture 3 Credit(s)
CHEM 116 - Chemical Principles II Lecture 3 Credit(s)

CHEM 251 - Organic Chemistry I Lecture 3 Credit(s)
and
CHEM 255 - Organic Chemistry I Laboratory 2 Credit(s)

CHEM 252 - Organic Chemistry II Lecture 3 Credit(s)
and
CHEM 256 - Organic Chemistry II Laboratory 2 Credit(s)

CHEM 311 to 379
ENVSCI 120 - Introduction to Environmental Science 3 Credit(s)
ENVSCI 225 - Weather and Climate 3 Credit(s)
ENVSCI 226 - Introduction to Oceanography 3 Credit(s)
ENVSCI 260 - Global Environmental Change 3 Credit(s)
ENVSCI 281 - Introduction to Geographic Information Systems 4 Credit(s)
ENVSCI 305 - Hydrology 3 Credit(s)
ENVSCI 381 - GIS Applications and Spatial Databases 4 Credit(s)
ENVSTY 111L - Environmental Concerns and Chemical Solutions 3 Credit(s)
PHYSIC 211 - Introduction to Contemporary Physics 3 Credit(s)
PHYSIC 214 - Thermodynamics 3 Credit(s)
PHYSIC 281 - Physical Laboratory I 3 Credit(s)
PHYSIC 300 to 499
PSYCH 475 - Experimental Methods: Learning and Perception 3 Credit(s)
PSYCH 476 - Experimental Methods: Physiological 3 Credit(s)

Computer Science Electives (6 Credits):
Take two courses from below. With prior permission, it may be possible to take an independent study course.

CS 413 - Applied Cryptography 3 Credit(s)
CS 430 - Database Management 3 Credit(s)
CS 436 - Database Application Development 3 Credit(s)
CS 437 - Database-Backed Web Sites & Web Services 3 Credit(s)
CS 438 - Applied Machine Learning 3 Credit(s)
CS 442 - Cybersecurity in the Internet of Things 3 Credit(s)
CS 443 - Mobile Applications 3 Credit(s)
CS 446 - Introduction to Internetworking 3 Credit(s)
CS 449 - Introduction to Computer Security 3 Credit(s)
CS 460 - Graphics 3 Credit(s)
CS 461 - Computer Games Programming 3 Credit(s)
CS 470 - An Introduction to Artificial Intelligence 3 Credit(s)

The following graduate level courses can also be used, but require departmental approval. Descriptions can be found in the Graduate Catalog.

CS 615
CS 620
CS 622
CS 624
CS 630
CS 632
CS 634
CS 636
CS 637
CS 639
CS 641
CS 644
CS 646
CS 647
CS 648
CS 662
CS 664
CS 670
CS 672
CS 674
CS 675
CS 680
Tuition & Financial Aid

Cost & Aid
Please refer to the following Admissions pages for more information:

For additional information regarding tuition and fees, please visit the Bursar's Office or send an email to Bursar@umb.edu.
Career Possibilities
Provide your company with invaluable insights about their products and services as a data scientist. Break new ground as an innovative software developer. Or, launch your own tech startup with a degree under your belt. Whatever your ambitions, we're here to support you.
Become a:
Mobile app developer
Game developer
Cloud architect
DevOps engineer
Machine learning engineer
Robotics engineer
UI/UX designer
IT project manager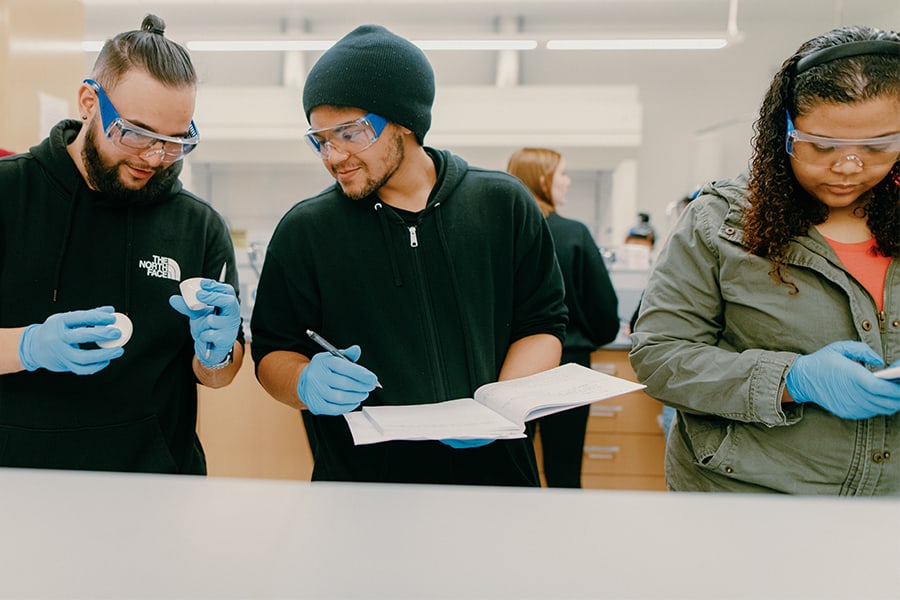 College of Science and Mathematics
Interested in learning more about the faculty, research, and range of programs that make the College of Science and Mathematics so popular?
Explore Now