Career Possibilities
Teach and conduct research at universities or colleges, sharing your expertise in gerontology and mentoring future scholars and professionals in the field. Analyze and evaluate aging-related policies and their impact on older adults, providing evidence-based recommendations to government agencies and advocacy groups. Or, work in public health agencies or organizations, developing and implementing public health initiatives that target older adults. These are just a few of the possibilities.
Become a(n):
University Professor

Research Scientist

Policy Analyst

Non-profit Director

Gerontological Consultant
Plan Your Education
How to Apply
Deadlines & Cost

Deadlines: February 1 (for priority consideration for funding) and June 1 (final) for fall

Application Fee: The nonrefundable application fee is $75. UMass Boston alumni and current students that plan to complete degree requirements prior to graduate enrollment can submit the application without paying the application fee.

Program Cost Information: Bursar's website
Curriculum

Foundation Courses (15 Credits)

GERON GR 611 - Health and Physical Changes in Aging 3 Credit(s)
GERON GR 621 - Social Aspects Aging 3 Credit(s)
GERON GR 628 - Psychology of Aging 3 Credit(s)
GERON GR 724 - Race & Culture 3 Credit(s)

Research Courses (18 Credits)

GERON GR 601 - Research Methods and Experimental Design 3 Credit(s)
GERON GR 603L - Statistical Methods in the analysis of Social Problems I 3 Credit(s)
GERON GR 604L - Statistical Methods in the Analysis of Social Problems II 3 Credit(s)
GERON GR 726 - Current National Data Bases in Gerontological Policy Research 3 Credit(s)
GERON GR 727 - Research Practicum in Gerontology 3 Credit(s)

GERON GR 609L - Qualitative Methods and Field Research3 Credit(s)
OR
GERON GR 701 - Advanced Statistical Methods in Gerontology 3 Credit(s)

Policy Courses (9 Credits)

GERON GR 623 - Issues in Aging Policy 3 Credit(s)
GERON GR 760 - Policy Analysis Techniques 3 Credit(s)
GERON GR 761 - Advanced Policy Analysis in Aging 3 Credit(s)

Professional Development Seminar (3 Credits)

GERON GR 688 - Multidisciplinary Seminar in Aging 1 Credit(s) - complete three times

Electives (15 Credits)

Complete at least five additional GERON GR courses.

Dissertation Research (9 Credits)

GERON GR 899 - Dissertation Research 1-9 Credit(s)
Graduation Criteria

Complete 69 credits from 21 courses including five foundation courses, six research courses, three policy courses, one professional development seminar, five electives, and nine credits of dissertation research.

Doctoral candidacy: Completion of a paper examination.
Dissertation: Compose and defend a dissertation based on original research.
Empirical research paper: By the end of the fourth semester of study, students are expected to complete an empirical research paper, comparable to an article that would be published in a professional academic journal. The paper is based on the preparatory course work in research methods and statistical analysis undertaken during the first and second years of study. Completion and acceptance of the paper by two faculty reviewers by the end of the fourth term is a prerequisite to taking the qualifying paper examination.

En Route Master's Degree: Students may, with the approval of the program director, apply to receive an MS degree en route to the PhD. To qualify, students must complete 30 credits and the empirical research paper.

Transfer coursework: Students who enter the program already holding an appropriate master's degree may petition the Graduate Program Director for waiver of up to 12 credit hours of required or elective course work. Prior graduate courses will be considered for meeting elective requirements on the basis of their pertinence to the student's course of studies in gerontology. All courses considered for waiver or transfer must have been completed with a grade of at least B. Consideration will be given only to courses completed within 7 years of enrollment. Acceptance of prior course work is subject to the approval of the graduate program director and the dean of graduate studies.

Statute of limitations: Eight years.
Contact

Graduate Program Director Kathrin Boerner
kathrin.boerner [at] umb.edu
(617) 287-7348

Program Manager Martin Hansen-Verma
martin.hansen [at] umb.edu
(617) 287-7338

Gerontology Programs
gerontology [at] umb.edu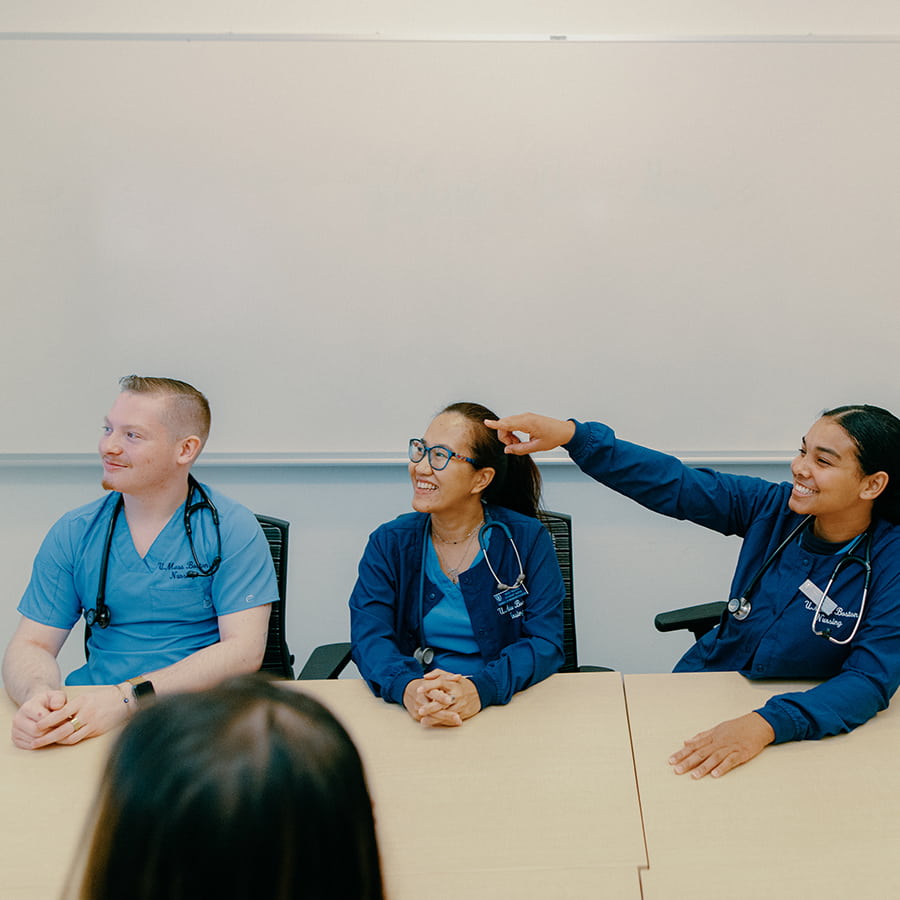 Manning College of Nursing and Health Sciences
Learn more about the faculty, research, and programs that make up our Manning College of Nursing and Health Sciences.
Explore Now