Meet Our Students & Alumni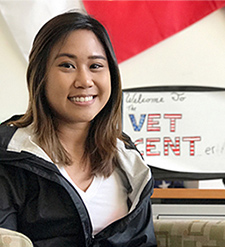 Ches D. O'Brien, '20
Major: College of Nursing and Health Sciences, Nursing
Hometown: Canton, MA
Service: U.S. Air Force
Ches O'Brien was born in the Philippines and attended high school in CA. When she graduated early, at the age of 16, she decided to join the US Air Force. It was in the military that she discovered her ultimate calling -- the field of nursing.
Ches transferred to UMass Boston from Rowan College and joined the MA National Guard. At UMass Boston, she connected with the Office of Veterans Affairs. "They were great," she says. "They represented UMass Boston wonderfully, and were very clear about everything." She credits them, and Jim McCarthy from the Office of University Advising, for helping her complete an inter-college transfer from the College of Liberal Arts into the College of Nursing and Health Sciences.
While she is earning her Bachelor of Science in nursing degree, she continues her study of psychology, as a minor, and has also volunteered for the UMass Boston UNICEF program, Boston's City Year project, and at a local elder center. She is very busy. She believes it'll be good practice for eventually working as a licensed RN, while earning her doctoral degree in Nursing Practice.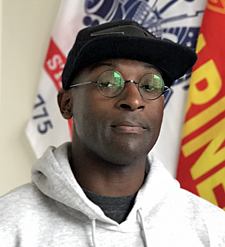 Micah Mignott, '19
Major: College of Science and Mathematics, Information Technology
Home Town: Boston, MA
Service: U. S. Marine Corps Reserves
Micah Mignott first started at UMass Boston after graduating from Mission High School in Boston, and had decided to major in Computer Science. UMass Boston was an easy decision for him – it made economic sense, and his mom believed it was the right place for him. During his first few years at UMass Boston, he found that Computer Science was not the best fit for him. He wanted something else, but was not yet sure what.
He joined the Marine Corps Reserves, and spent time training in the Carolinas. He was then sent to California where he worked in telecommunications. In a sense, he feels, that's when he "found" Information Technology and what he calls a realistic perspective. When he returned to Massachusetts, Micah worked on the Cambridge City Council campaign for former vice-mayor, Marc McGovern. He enjoyed the experience, and it heightened his awareness of the value of earning his college degree -- and its relationship to the job search process. It was time to try UMass Boston again, this time combining his acquired telecommunications skills with computer science to major in Information Technology.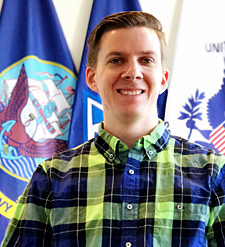 Adam Mason, '19
Major: College of Management, Supply Chain & Service Management
Home Town: Lynn, MA
Service: U.S. Marine Corps
Adam Mason has a plan. He believes that UMass Boston will help him implement that plan.
After he graduated from Lynn Technical High School, where he played soccer, Adam began working in retail, but found he wanted more. Speaking with a number of Armed Services recruiters, he realized that the Marine Corps offered the best shot at building on both his work experience and learned technical skills. So, in 2006, he signed on and went off to Parris Island in South Carolina, followed by a tour of duty in Iraq.
After leaving active duty, Adam earned his Associate's degree in Liberal Arts from North Shore Community College, and then took advantage of the MassTransfer process to transfer to UMass Boston. Attending a Transfer Open House, and following the advice of a UMass Boston advisor, he entered the College of Management, majoring in Supply Chain and Service Management. He found that the college's Management Achievement Program (MAP) offered many events and experiences that spoke directly to his interests and focus, helping him network. Numerous job fairs allow the same, so he tries to attend as many as he can. As he puts it, "initiative turns into opportunities."
Adam found the Student Veterans Center to be a good place to meet lots of "like-minded people [where it's] easy to make lots of friends." And, though the campus as a whole is very friendly and welcoming, he says the student veterans community is especially supportive. While Adam was attracted to UMass Boston by the ease of transferring, he finds that the campus's great diversity is very rewarding and valuable, broadening his horizons, and affording him exposure to perspectives he might have otherwise missed. He believes the school's solid global reputation will help him in the job market when he graduates.