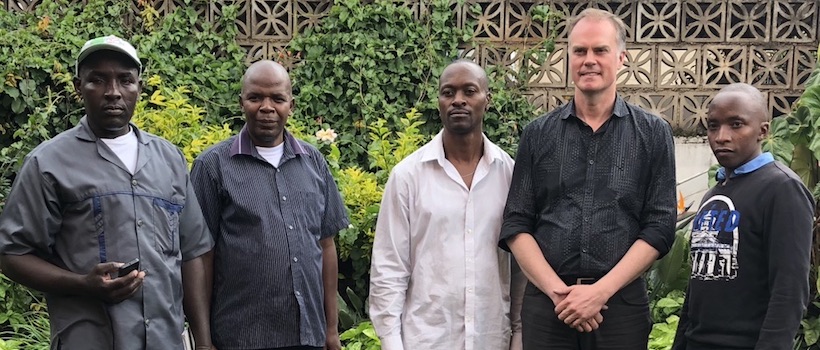 The CPDD Senior Fellows are distinguished scholars and practitioners whose work contributes to one or more of CPDD's key areas. Their professional affiliations are external to the Department Conflict Resolution Human Security & Global Governance and either within or outside of the University of Massachusetts Boston. ​
Agron Alibali, Special Counsel, Frost & Fire Consulting
Agron Alibali (LL.M., Boston University School of Law) is a visiting fellow at UMass Boston. A native of Albania, his research centers on issues of legal and electoral reform, human and minority rights, and development and reform of banking and financial institutions in southeastern Europe. He has worked at the Albanian Ministry of Justice, John Hancock Financial Services, and has served as a consultant to the World Bank. Mr. Alibali has promoted and pursued several projects in southeastern Europe, including curriculum development, constitutional and electoral reform, environmental law, and bilateral university partnerships. He has published several articles in various legal journals covering different aspects of positive and customary law. As a visiting researcher at Harvard Law School in 2000, he researched and presented work on Kosovo's legal status after NATO's intervention and also on the legal status of ethnic minorities in the European Union. Through his work with local NGOs in Albania, he has contributed to the development of international environmental law, especially in connection with various compliance mechanisms of international financial institutions. In 2008, he was nominated as a candidate member with the Aarhus Convention Compliance Committee at the UN Office in Geneva, Switzerland.
Email: Agron.Alibali@ffconsulting.al
Edmund Beard, Senior Advisor, University of Massachusetts Office of the President (ret. 2018)
Edmund Beard (PhD, Columbia University) is the former chair of the Political Science Department at UMass Boston and former director of the Master of Science in Public Affairs Graduate Program. He retired in 2018 after over a decade serving as a senior advisor in the University of Massachusetts Office of the President. A specialist in democratic political institutions and democratic political behavior, Professor Beard has been principal investigator of projects in Russia, China, Eastern Europe, and East and West Africa. From 1983-1991, and again from 1999-2003, he was director of the McCormack Institute, a predecessor of the McCormack Graduate School. Under his direction, the McCormack Institute developed the Master of Science in Public Affairs Graduate Program; established the New England Journal of Public Policy; published dozens of books, papers, and special reports; and received over six million dollars in federal endowment funds. From the inception of the new McCormack Graduate School, until the spring of 2006, he led the school as acting dean. Professor Beard is the author / co-author of three books and numerous articles on various aspects of politics and public policy. He served for many years on the board of directors of the Social Policy Research Group in Boston, and is a former research associate at the Brookings Institution in Washington, D.C. In 1988, the University of Massachusetts Boston presented him with its highest public service honor, the Distinguished Public Service Award.
Email: edmundbeard@gmail.com
Lt. General (Ret.) Abdulrahman Bello Dambazau, Minister of the Interior, Federal Republic of Nigeria
Lt. General (Ret.) Abdulrahman Bello Dambazau (PhD, University of Keele) is Minister of the Interior for the Federal Republic of Nigeria. He started cadet training at the Nigerian Defense Academy (NDA) in December,1974 and was commissioned into the Nigerian Army Infantry in June,1977. He held several staff, instructional, and command appointments, including Chief of Army Staff (COAS), Nigeria's highest army position. He held this position for four years until his retirement from the military in September 2010.
Loraine Della Porta, Mediator and Organizational Consultant, The Mediation Group
Loraine Della Porta (J.D., Roger Williams University School of Law) has a public sector career that spans over twenty-five years and reflects extensive experience in conflict prevention, organizational development, and training. She is a trained lawyer and an experienced mediator, facilitator, and dispute systems designer. She is currently a mediator, organizational consultant, and arbitrator with The Mediation Group (TMG) in Boston, and focuses on expanding the use of restorative justice and restorative practices both domestically and abroad. From 2001 to 2013, Ms. Della Porta served as deputy director of the Massachusetts Office of Public Collaboration (MOPC), a free-standing institute of UMass Boston which serves as a neutral forum to assist public entities in resolving conflict and collaborating on important policy issues within government and across sectors. She played a major role in launching a number of large-scale projects, programs, and public policy initiatives, including the design and implementation of mediation programs for the Massachusetts Department of Correction and the Massachusetts Department of Revenue. She also served as director of MOPC's Public Policy Institute, which provides a vehicle for communities to engage in deliberative dialogue and civil discourse on important policy issues including quality and affordable health care, elder care workforce issues, immigration, natural resources, energy, youth violence, and financial security.
Email: lmdellaporta@themediationgroup.org
Leila Farsakh, Associate Professor of Political Science, University of Massachusetts Boston
Leila Farsakh (PhD, University of London) is chair of the Political Science Department in UMass Boston's College of Liberal Arts. Her areas of focus include Middle East politics, comparative politics, and politics of the Arab-Israeli conflict. She is the author of Palestinian Labor Migration to Israel: Labour, Land and Occupation (London: Routledge, second edition, 2012). She has also published in a wide range of journals on questions related to the political economy of the Israeli-Palestinian conflict, alternative to partition, and international migration. Dr. Farsakh has worked with a number of international organizations, including the Organization for Economic Cooperation and Development (OECD) in Paris. Since 2008, she has been a senior research fellow at the Center for Development Studies at Birzeit University in the West Bank. In 2001, she won the Peace and Justice Award from the Cambridge Peace Commission in Cambridge, MA.
Email: leila.farsakh@umb.edu
Jay Jinseop Jang, Managing Director, Education Divide Reform (EDR)
Jay Jinseop Jang (PhD, UMass Boston) has held leadership positions in the nonprofit, government, and business sectors for the past 30 years. He is the Managing Director and Founder of Education Divide Reform, a nonprofit organization committed to helping communities and societies bridge gaps in educational opportunities caused by economic inequality and barriers of language and culture. Since 2014, he has designed and implemented academic programs to help underperforming immigrant students in Greater Boston's public high schools so as to enhance their social integration and prospects for equal opportunity in the U.S. Dr. Jang's research interests include international security and peace, national security, and human security. As a scholar-practitioner, he aims to apply his research to the development of a new human-centric policy framework for the national security of strong states. To this end, in 2016, he piloted "Power of Hope: Global Entrepreneurship Education for North Korean Refugee Students," a human-centric national security project oriented towards inter-Korean peace. He is currently working to develop educational and research projects related to global citizenship education and human-centric security in East Asia. These projects include "My Village & Global Dream," a program for the educational development of rural communities, and programs for students from Japan, China, and Korea that promote intercultural compatibility, human development, and international peace. Dr. Jang is a founding member of the U.S. TaeKwonDo Education Foundation, a member of the Boston-based Korean American Citizenship League's Board of Directors, and chairman of the Korean American Business Association in Greater Boston.
Email: jjang@edrworld.org
Yves-Renee Jennings, Conflict Resolution Professional
Dr. Yves-Renée Jennings holds a Ph.D. from the George Mason University School for Conflict Analysis and Resolution (S-CAR). She is a conflict resolution professional and scholar-practitioner with deep understanding of societal and structural issues that often contribute to social conflicts. She is interested in human development and empowerment within the context of transformation of social and structural barriers that hinder groups from fully realizing their potential. Dr. Jennings can conceptualize, design, implement, and evaluate collaborative process and social transformation projects and programs focusing on conflict resolution and peace-building, as well as leadership, group and community empowerment and development within a multi-cultural context. Dr. Jennings taught at the Department of Rights and International Studies at University of Azuay in Cuenca, Ecuador, at FLASCO (Facultad Latinamericana de Ciencias Sociales Sede Ecuador--Latin American Faculty of Social Sciences Headquarters Ecuador) in Quito, at the School of International Service at the International Peace and Conflict Resolution Program at American University in Washington DC. She also taught at S-CAR at the George Mason University.
In 2009, Dr. Jennings co-founded Partners for Sustainable Peace (PSP), a 501(c) (3) non-profit organization that she co-founded in Virginia and served as Chief Executive Officer until 2014. In the past, she held a wide range of conflict resolution and peacebuilding positions, and conducted mediation training and facilitation sessions for Northern Virginia Mediation Services, the U.S. Institute of Peace Haiti program, the Fairfax Country Public Schools system, the George Mason University International Student Office, and the Arlington City. Dr. Jennings has also traveled to Liberia, Dominican Republic, and Haiti for various professional activities and research related to conflict resolution, peacebuilding, and social transformation. She worked for the World Bank for over twenty years and held positions in personnel management, administration, budget and resource management, risk management, internal controls, and internal auditing collaborating with World Bank offices in Washington DC and around the world. For instance, she worked with the World Bank offices in Argentina, Peru, Honduras, Venezuela and many African countries, such as Chad, Burkina Faso, Burundi, Egypt, Ethiopia, Kenya, Ghana, Madagascar, Mali, Mauritania, Rwanda, Senegal, Niger, Nigeria, Rwanda, and Togo. She worked in the private sector in Haiti, for over ten years, where she served as office manager overseeing many staff.
Michael Keating, Senior Project Advisor, University of Massachusetts Office of the President
Michael Keating is an expert in the area of political economy and natural resource governance with over thirty years of experience as a development consultant and corporate executive. His current research and consulting interests relate to policy issues surrounding natural resource governance in developing economies and the relationship between extractive industries and social conflict. In his current role within the Department of Global Strategy at the University of Massachusetts Office of the President, he is collaborating with a group of African NGOs and universities to develop a pan-African curriculum on the topic of natural resource governance. At UMass Boston's McCormack Graduate School, he served as a lecturer and was the founding coordinator of the Graduate Certificate in International Development. He was also CPDD's director of operations and spearheaded its work in Liberia. From 2014-2016, Mr. Keating was a DFID-funded senior advisor to the Ministry of Mines and Petroleum of Afghanistan, where he worked on developing a new natural resource policy for the government of Afghanistan. Prior to that, he worked for over 10 years as a political economy analyst on behalf of various aid agencies and NGOs, including the World Bank, the U.S. State Department, DFID, and SIDA, focusing on issues related to natural resources, agricultural production, media, and higher education.
Email: MKeating@umassp.edu
Adugna Lemi, Associate Professor of Economics, University of Massachusetts Boston
Adugna Lemi (PhD, Western Michigan University) is chair of the Economics Department in UMass Boston's College of Liberal Arts. He also teaches courses in International Trade, Political Economy of Development in Africa, and, in the UMass Boston Honors College, a special topics course titled "The real relationship between the poor and the rich countries." His research interests focus on economic development in Africa; capital flow and its determinants in developing countries; multinational corporations and their role in developing countries; and issues of poverty, trade, and income diversification in Ethiopia. He is currently working on three research projects titled "Chinese firms in Africa: Evidence from a unique Chinese firm level data," "Trade and climate change as determinants of changes in cropping pattern in Africa," and "Trade mis-invoicing and capital flight from Ethiopia." Dr. Lemi's works have been published in a number of academic journals including Empirical Economics, African Trade Journal, and International Journal of Education Economics and Development, among others. He has served as a visiting professor and consultant at Addis Ababa University (AAU) in Ethiopia and the African Economic Research Consortium (AERC) in Nairobi, Kenya.
Email: adugna.lemi@umb.edu
Daria Lyman, Director, Restorative Justice Project, University of Massachusetts Boston
Daria Lyman (MIA, Columbia University School of International and Public Affairs) is the director of CPDD's restorative justice projects. Specifically, she is program director and lead facilitator of "Repairing Harm," a program at the Massachusetts Correction Institute (MCI) Concord, and director of the Restorative Justice Juvenile Mediation Project (RJUMP). Through these projects, she works with incarcerated populations and juveniles involved in the criminal justice system. Ms. Lyman is a mediator with expertise in permanency, parent/child, and victim/offender mediation. She has written about her work in the Association of Conflict Resolution Magazine Winter 2017 edition.
Email: daria.lyman@gmail.com
Michael Patrick MacDonald, Writer and Activist
Michael Patrick MacDonald is a leading Boston activist, organizer and writer. He has focused his community efforts on diverse and inclusive coalition building to reduce violence and promote grassroots leadership from Boston's most impacted communities and families. He has developed Gun Buyback programs and local support groups which promote the voices of adult and youth survivors of poverty, violence, and the drug trade. Mr. MacDonald is the author of the New York Times bestselling memoir All Souls: A Family Story from Southie, and the acclaimed Easter Rising: A Memoir of Roots and Rebellion, both of which are First Year Experience selections at colleges and universities throughout the U.S. He has also written a number of essays and short stories, including The Resurrection of Cornelius Larkin: An Immigrant's Tale, written for The Dropkick Murphys' theme album "Going Out in Style." He is a regular contributor to The Boston Globe's Op Ed page and a Senior Contributing Editor for the Schuster Institute for Investigative Journalism at Brandeis University. Mr. MacDonald is on many local and national boards, including the Children's Defense Fund's Beat The Odds Program essay selection committee, Crittenton Women's Union National Advisory Committee, Families First of Greater Boston Advisory Board, and OrigiNation Cultural Arts Center in Roxbury, MA.
Email: http://www.michaelpatrickmacdonald.com/contact/
Gillian MacNaughton, Assistant Professor of Public Policy of Excluded Populations, University of Massachusetts Boston
Gillian MacNaughton (DPhil, University of Oxford) is an international human rights lawyer who works on economic and social rights - particularly the rights to health, education, and decent work - and their relationship to equality rights. She is also involved in developing human rights-based methodology and tools, including human rights impact assessment and indicators. In addition to being an assistant professor at UMass Boston's prior School for Global Inclusion and Social Development, she is an affiliate of the Research Program on Economic and Social Rights in the Human Rights Institute at the University of Connecticut. Ms. MacNaughton has taught international human rights courses for the European Regional Master's Program in Human Rights and Democratization at the University of Sarajevo; the Master's Program in Sustainable International Development at the Heller School for Social Policy and Management, Brandeis University; and the Summer School in International Human Rights Law and several colleges at the University of Oxford. She has consulted on human rights projects for the World Health Organization, UNICEF, the World Bank, and the UN Special Rapporteur on the right to health, governments, and nongovernmental organizations. She is a member of the Vermont Bar.
Email: Gillian.MacNaughton@umb.edu
Kevin McKague, Associate Professor of Entrepreneurship and Strategy, Cape Breton University
Kevin McKague (PhD, Schulich School of Business, York University) is the Canada Research Chair in Social Enterprise and Inclusive Markets and an associate professor of Entrepreneurship and Strategy at the Shannon School of Business, Cape Breton University. His research focuses on social entrepreneurship in Africa, South Asia, and North America in the fields of health, agriculture, energy, and water. With $3M in research funding from five prominent institutions, he is currently investigating: the most effective social enterprise models for volunteer community health workers in Africa; how a gender lens can enhance the performance of social enterprises for maternal and child health; and the opportunities and challenges for scaling social franchise business models to improve food security for smallholder farmers in Africa. Dr. McKague has worked on major research projects with the International Finance Corporation, the United Nations Development Programme's Growing Inclusive Markets Initiative, the International Development Research Centre, and MasterCard Foundation. In addition to numerous publications for practitioner audiences and decision-makers, his work has been published in Organization Studies, the Social Enterprise Journal, and the MIT/SLOAN Management Review, among other journals. He is the author of Making Markets More Inclusive and a research fellow at York University's Centre for Refugee Studies and Centre of Excellence for Responsible Business.
Email: kmckague@gmail.com
David Pantalone, Associate Professor of Psychology, University of Massachusetts Boston
David Pantalone (PhD, University of Washington) is an associate professor in the Psychology Department in UMass Boston's College of Liberal Arts, director of the Department's clinical psychology doctoral program, and a clinical psychologist/behavioral scientist at The Fenway Institute of Fenway Health, New England's largest LGBT-focused health center. His empirical research focuses on the intersections of clinical and health psychology. Specifically, he studies intervention development and the dissemination of evidence-based interventions for preventing HIV through reducing substance use; improving HIV medication adherence and engagement with care through reducing alcohol use; and coping with stressful experiences, including identity-based discrimination among racial or ethnic minority and sexual minority men who are living with HIV. Dr. Pantalone is highly active within the profession of psychology. He collaborates on interdisciplinary investigator teams for a variety of NIH-funded projects; is an associate editor of the journal Psychology of Sexual Orientation and Gender Diversity; and was President of APA's Division 44 during 2017-18. In honor of his contributions, he was selected as a Fellow of the American Psychological Association and three of its divisions: Clinical (Division 12), Health (Division 38), and LGBT Psychology (Division 44).
Email: David.Pantalone@umb.edu
Sara Simon, International Development Expert
Sara Simon (MA, John Hopkins School of Advanced International Studies) is an international development expert with over 20 years of experience related to the underlying causes of poverty, human rights issues, and HIV. She specializes in policy advocacy, specifically relating realities on the ground to policy development and implementation. She is particularly interested in how the work of communities is translated into the policy environment. In this regard, she supports civil society groups in their efforts to inform policy reform processes with their knowledge of everyday needs and to advocate for change at the international level. She has advocated for the realization of human rights in the programs and policies of UN AIDS, including the right to health and food, and has led research on barriers to universal access to HIV prevention, treatment, care, and support. This research looks specifically at stigma, discrimination, and legal issues from community perspectives. Currently, in collaboration with Courtenay Sprague (UMass Boston), Ms. Simon is undertaking research in the southern United States on health outcomes and linkage to HIV care for persons living with HIV who are part of the AIDS Drug Assistance Program. Since 2014, she has been leading a technical assistance team for the European Commission's Policy Forum on Development. She has worked on USAID and EU-funded projects in the Middle East, Africa, and Asia; with the Communications and Consultation Facility of the NGO Delegation to the UNAIDS Board in Brussels, Belgium; and with CARE International, the UN Office for the Coordination of Humanitarian Affairs (OCHA), and the UN Development Program (UNDP).
Email: saraesimon@gmail.com
David Steele, Adjunct Lecturer in Conflict Transformation, Brandeis University
David Steele (PhD, University of Edinburgh) has 20 years of experience working with political, religious, and other civil society actors to effectively facilitate conflict transformation and coexistence within unstable violence-prone situations of inter-ethnic and sectarian conflict. Since 2010, he has served as adjunct faculty in the Graduate Program in Conflict Resolution and Coexistence at Brandeis University's Heller School for Social Policy and Management. As an independent consultant, he has led workshops for US government personnel on developing programming in religious contexts. He also developed a manual for use in Muslim/Christian reconciliation efforts in Nigeria and inter-ethnic conflict in Kenya. During 2009-2010, following post-election violence in Kenya, he worked with Konrad Adenauer Stiftung to design a curriculum and manual for use in peacebuilding and conflict transformation and co-led workshops for 300 participants from local NGOs. During 2008-2009, he served as Senior Reconciliation Facilitator with the Baghdad office of the US Institute of Peace (USIP), providing training in negotiation, problem solving, and interfaith dialogue for a variety of personnel from Iraqi government agencies, educational institutions, religious groups, and civil society organizations. Additionally, he has worked on conflict management projects in Indonesia, Kosovo, Macedonia, Sri Lanka, and Yugoslavia.
Email: dsteele@brandeis.edu
Andrew Tarsy, Founder and Principal, Emblem Strategic
Andrew Tarsy (JD, George Washington University School of Law) has combined advocacy, education, and organizational leadership throughout his career. He began his career as an advocate for reform in the US criminal justice system, particularly with regard to legal representation for indigent defendants, and as a Trial Attorney in the Civil Rights Division of the United States Department of Justice. For eight years, he served on the staff of the Anti-Defamation League as Civil Rights Counsel and as Executive Director for the New England Region. He strengthened the organization's commitment to hate crimes training for law enforcement, immigration reform, marriage equality, inter-religious dialogue, and genocide education. He has also been a Senior Executive with Facing History and Ourselves and, in 2009, presented at a UNESCO Conference in Paris on the organization's experience with Holocaust education in post-conflict African nations. He has also served as a Visiting Professional in the Office of the Chief Prosecutor at the International Criminal Court in The Hague; an official MA state delegate on trade missions to Israel, the United Kingdom, and Brazil under Massachusetts Governor Deval Patrick; President of the Edward M. Kennedy Institute for the United States Senate; and Co-Founder and President of the Alliance for Business Leadership. He is currently the Founder and Principal of Emblem Strategic, a Boston-based consulting firm that works with exceptional business leaders to turn vision and values into impact and advantage.
Email: info@EmblemStrategic.com
Jo Vearey, Associate Professor, University of Witwatersrand
Jo Vearey (PhD, is an associate professor and acting co-director at the African Centre for Migration & Society, University of Witwatersrand, South Africa. With a commitment to social justice, her research explores ways to generate and communicate knowledge to improve responses to migration, health, and wellbeing in the southern African region. Fundamental to her research is her participation in a range of policy processes at international, regional, national, and local levels, which she shares in her blog. Ms. Vearey is currently exploring the role of public engagement in the development of appropriate policy responses, including the use of mixed methods approaches that involve various publics in the co-production and application of knowledge to affect change. She is a South African National Research Foundation rated researcher and member of the South African Young Academy of Science. Supported by a Welcome Trust Investigator Award, she has established the Migration and Health Project Southern Africa (maHp). Ms. Vearey's 2017 publications can be found in the South African Health Review, AGENDA, The Lancet, BMC Public Health, Families, Relationships and Societies, and Urban Health.
Email: jovearey@gmail.com
Nkasi Wodu, Center Fellow
Nkasi Wodu is a Fellow of the Center for Peace, Democracy, and Development and a Doctoral Candidate in Global Governance and Human Security at the University of Massachusetts, Boston. He is a trained Lawyer, an alumnus of the Kofi Annan International Peacekeeping Training Center in Accra, a certified mediation trainer and practitioner from the Institute of Chartered Mediators and Conciliators (Nigeria), and a member of the United National Office of the Special Adviser on Africa's (OSAA) knowledge Network. He holds two Masters' degrees in Peace and Conflict Studies and in Global Governance and Human Security.
He has considerable research experience in research and analysis, including socio-political mapping. He has senior-level expertise in international development, program management, research, and planning for over twelve years in Nigeria with International Alert, Chevron Corporation's Funded Foundation for Partnership Initiatives in the Niger Delta, and the Center for Peace, Development, and Democracy.
He is currently managing a project on Supporting Civic Engagement in ten African Countries. The project aims at strengthening civil society's capacity to engage in advocacy and oversight before, during, and after the upcoming electoral process in 10 African countries: Angola, DRC, Gabon, Kenya, Liberia, Madagascar, Nigeria, Sierra Leone, South Sudan, and Zimbabwe.
He has taught graduate and undergraduate students at the University of Port Harcourt, Nigeria, The University of Stellenbosch, Cape Town, South Africa, and the University of Massachusetts, Boston. He has also held over 50 workshops in negotiation, mediation, and peacebuilding concepts for ten years.
Email: Nkasiobu.Wodu001@umb.edu
---