About Us
The University's MakerSpace opened in 2016 to help our students, faculty, and staff to join the growing worldwide "maker movement" with a goal of expanding the ways they learn, teach, and work on research -- regardless of subject area. While our main goal is towards educational and research purposes, we have found that personal passion projects are the best way to learn new technologies. For that reason, the MakerSpace's services are free for any project you are working on; we don't charge for materials, equipment time, or consultation. We've worked with clients in subjects as diverse as Biology, Poetry, Electrical Engineering, Art, English as a Second Language, Entrepreneurship, and more. Contact us today to chat about how we can help you too!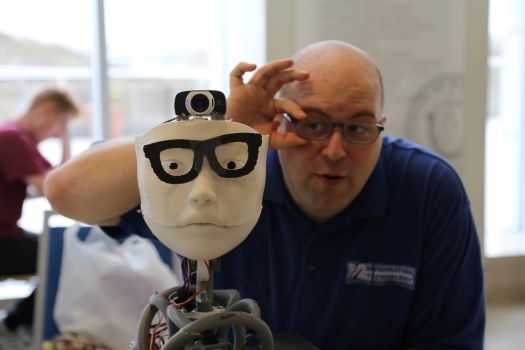 Location & Directions
The MakerSpace is located in the McCormack building, 1st floor, room 401, just off the main hallway, halfway down on the left.
If you're coming from off-campus, you can see more instructions from the University's official Getting Here page, or see custom directions written below.
If you're driving:
Point your GPS to "UMass Boston West Garage". From the garage exit, cross the street and enter the Quinn Administration Building, follow the hallway in the UL floor past the loading dock, and turn left after the Quinn Graphics office. Take the elevator up to the 1st floor, then follow signs for the McCormack building.
If you're taking the T:
Take the Red Line to JFK/UMass station then take the free "Route 1" shuttle bus to the Campus Center. Take the elevator or stairs up to the 1st floor, and follow signs for the McCormack building.