UMass Boston Mobile App
The fastest way to find what you need.
The UMass Boston Mobile App is completely redesigned based on student feedback, making it the fastest way to access some of the most important campuses services.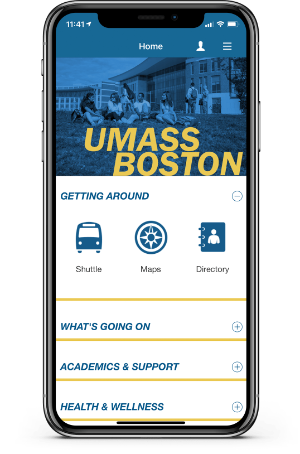 The UMass Boston Mobile App is free and available for iOS (iPhone and iPad) and Android devices.
Getting Around – Real-Time Shuttle Tracker, Campus Maps, and Directory are now front and center
What's Going On – Events, Athletics, News, Dining options, and more all in one place
Academics & Support – Access WISER, Here4U, Academic Calendar, and more
Health & Wellness – Find Recreation options, Health Services, and Return to Campus info
For UMass Boston Mobile App requests, please use the Web Request Form.