Biomedical Health And Life Sciences
Biomedical, Health, and Life Sciences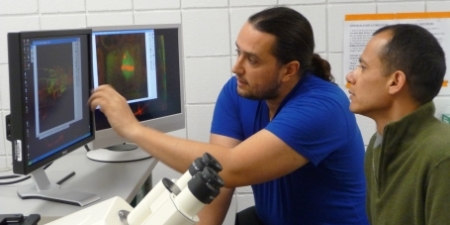 Our research, academic programs, and partnerships focus on addressing the many faces of health disparities—from access to undergraduate and graduate education to translational research centers. In addition to campus-specific strengths and talents, we work closely with our four sister campuses to combine and leverage our collective expertise when competing for grants from the National Institutes of Health, National Science Foundation, and the U.S. Department of Education, to name a few.
Below are details on just some of our biomedical, health, and life sciences successes and ongoing collaborations with our external partners. To learn even more, contact the Office of the Vice Provost for Research and Strategic Initiatives & Dean of Graduate Studies at 617.287.5614 or 617.287.5608. Scroll down for a list of some of our ongoing projects and ventures.
College of Science & Mathematics
In our vision, research and teaching cannot be separated. A spirit of collaboration exists across the college's departments because modern science requires interdisciplinary approaches. In research labs, undergraduate students work with graduate students and faculty, and the practices that undergraduates learn in the research lab are carried over into their work in the public and private sectors.
College of Nursing & Health Sciences
Fast becoming New England's expert in health disparities, health policy, exercise sciences, and oncology care, the CNHS is a leader in combining education innovation with clinical practice. The college is engaged in collaborative partnerships with more than 200 health care and fitness organizations through which students pursue internships and gain clinical/practical as well as research experiences. Serving a remarkably diverse student body through its undergraduate, graduate, and post-doctoral programs, the college is achieving its vision of educating knowledgeable providers of skilled nursing care, building awareness of the benefits of exercise and fitness, analyzing and informing health policy, and increasing the health and fitness of diverse urban populations.
Center for Personalized Cancer Therapy
A joint program of UMass Boston and the Dana Farber/Harvard Cancer Center (DF/HCC), the CPCT's goals are to
create research support platforms to facilitate high impact translational cancer research (academic and startup biotech companies);
focus research efforts on the development, validation, and commercialization of RNA- and protein-based cancer biomarkers with significant clinical utility: tumor subtyping and early measures of tumor response to therapy;
train and bring diverse student talent into the DF/HCC; and
Provide UMass Boston students with skills suitable for academic careers or employment in regional biomedical industry.
When fully operational, the CPCT will provide a means for undergraduate and graduate students to become the next generation of well-trained biomedical workforce talent and the future leaders of life sciences research in academia and industry. A scientific focus of the center will be to elucidate how lifestyle choices, particularly those that promote diet-induced obesity and type 2 diabetes mellitus ('diabesity'), modulate the tumor microenvironment, and how such modulation affects tumor initiation, progression, and response to therapy.
UMass Boston-Dana Farber/Harvard Cancer Center Comprehensive Partnership Program
Funded by the National Cancer Institute in 2010, the U54 Minority Institution/Cancer Center Partnership Grant allows UMass Boston and Dana Farber/Harvard Cancer Center to collaborate on research aimed at addressing issues of cancer health disparities in disenfranchised populations. Through research programs in the areas of basic science, population science, student and investigator training and community outreach, the partnership serves to improve research, training, and outreach opportunities for under-represented minority students, fellows, and scientists and to develop information and resources toward closing the cancer health disparities gap.
UMass Center for Health Equity Intervention Research
CHEIR is a partnership between the UMass Medical School and UMass Boston for developing innovative solutions for eliminating health disparities and equipping the next generation of researchers to better serve vulnerable populations. Central to CHEIR's work is using storytelling as a tool for building research literacy and promoting racial and ethnic health equity. CHEIR develops culturally-responsive and literacy sensitive interventions by partnering with populations affected by disparities and the community-based organizations serving them.
UMass Center for Clinical and Translational Science
In 2010, the UMass Medical School received a prestigious $20 million award from the National Institutes of Health to create an academic home for clinical and translational science across all five UMass campuses—the UMass Center for Clinical and Translational Science. The award places UMass and the medical school's clinical partner, UMass Memorial Health Care, among an elite consortium of 60 nationally prominent academic medical centers working to move laboratory discoveries into treatments for patients, to engage communities in clinical research, and to train a new generation of researchers.
UMass Boston Venture Development Center
A managed incubator for early-stage business, university, and student entrepreneurs, the VDC delivers targeted, one-to-one support to enable ventures to attract funding and grow. The VDC also offers 18,000 square-feet of state-of-the-art plug-and-play office, lab, and meeting space; shared business services; and equipment. Established in 2009, the VDC currently serves as home to 16 life science and health and 8 consumer and business software startup companies.