Plan Your Education
How to Apply

Apply for Admission

Please review the first-year and transfer apply pages for important information about application requirements, deadlines, and application status check.

Financing Your Education

Become a Beacon and pursue your passion in UMass Boston's diverse, supportive environment. Many students across our 200+ undergraduate and graduate programs receive financial aid—providing access to an education that's exceptional and affordable. Click below to learn more about financial aid opportunities and deadlines.

Financial Aid Deadlines & Application Process

Scholarships for First-Year & Transfer Students
Required Courses

Core Courses (9 Credits):

POLSCI 102 - Government and Politics of the United States 3 Credit(s)
or
POLSCI 103 - Introduction to Political Theory 3 Credit(s)

POLSCI 220 - International Relations (B) 3 Credit(s)
POLSCI 380 - Theories of International Relations 3 Credit(s)

Regional Electives (9 Credits):
Complete three from below.

POLSCI 201 - Comparative Politics of Industrialized Societies (C) 3 Credit(s)
POLSCI 202 - Comparative Politics 3 Credit(s)
POLSCI 365 - Japan and the United States 3 Credit(s)
POLSCI 369 - Politics of the Middle East (C) 3 Credit(s)
POLSCI 371 - Latin American Poltc 3 Credit(s)
POLSCI 372 - Central American Politics (C) 3 Credit(s)
POLSCI 375 - Third World Development (C) 3 Credit(s)
POLSCI 387 - The Government and Politics of China (C) 3 Credit(s)
POLSCI 404 - The Politics of the Arab-Israeli Conflict 3 Credit(s)
POLSCI 422 - Nationalism (C) 3 Credit(s)
POLSCI 430 - Russian Foreign Policy (B) 3 Credit(s)

AFRSTY 310 - Modern Caribbean Society 3 Credit(s)
ANTH 272 - Peoples and Cultures of Africa 3 Credit(s)
ANTH 273 - Peoples and Cultures of Mesoamerica (Mexico and Guatemala) 3 Credit(s)
ANTH 274 - Peoples and Cultures of the Caribbean 3 Credit(s)
ANTH 275L - Peoples and Cultures of China 3 Credit(s)
ASIAN 357L - Women in South Asian Religions: Gender Ideology and Practice in Hinduism, Buddhism, and Islam 3 Credit(s)
ASIAN 359L - Women in Modern China 3 Credit(s)
ASIAN 361L - The History of Modern China 3 Credit(s)
ASIAN 363L - Modern Japan 3 Credit(s)
ECON 337 - Emerging Economies in Asia 3 Credit(s)
ECON 338 - The Latin American Economy 3 Credit(s)
ECON 372 - Comparative Economic Systems 3 Credit(s)
ENVSCI 280 - Global Society and the Environment 3 Credit(s)
HIST 253 - African History since 1800 3 Credit(s)
HIST 255L - Gods and Slaves: Latin America before 1800 3 Credit(s)
HIST 316 - Europe since 1945 3 Credit(s)
HIST 322 - Shakespeare's London 3 Credit(s)
HIST 324 - Russia and the Soviet Union: From the 1917 Revolution to Putin 3 Credit(s)
HIST 334 - Italy Since 1815 3 Credit(s)
HIST 351 - Histories of Brazil 3 Credit(s)
HIST 352 - Topics in African History 3 Credit(s)
HIST 359L - Women in Modern China 3 Credit(s)
HIST 361L - The History of Modern China 3 Credit(s)
HIST 363L - Modern Japan 3 Credit(s)
HIST 364L - India since 1857 3 Credit(s)
HIST 365L - Iran, Afghanistan, and Pakistan in Modern History 3 Credit(s)
LATAM 270 - Human Rights in Latin America 3 Credit(s)
LATAM 303 - Reform and Revolution in Latin America 3 Credit(s)
SOCIOL 375L - Indian Cinema 3 Credit(s)
SPAN 361 - Latin American, Iberian, and Afro-Luso-Brazilian Cultures and Histories 3 Credit(s)
WGS 300L - Women in African Cultures 3 Credit(s)
WGS 345 - Gender, Religion and Politics in South Asia 3 Credit(s)
WGS 357L - Women in South Asian Religions: Gender Ideology and Practice in Hinduism, Buddhism, and Islam 3 Credit(s)
WGS 359L - Women in Modern China 3 Credit(s)
ECON 327 - Political Economy of Development in Africa 3 Credit(s)

Topical Electives (9 Credits):
Complete three from below.

POLSCI 265L - World War II Internment of Japanese Americans (A) 3 Credit(s)
POLSCI 307 - Political Change and Group Identity (A) 3 Credit(s)
POLSCI 365 - Japan and the United States 3 Credit(s)
POLSCI 402 - World Politics and World Order (B) 3 Credit(s)
POLSCI 410 - Pol Intrnatnl Econ 3 Credit(s)
POLSCI 411 - International Organizations I (B) 3 Credit(s)
POLSCI 420 - Imperialism (B) 3 Credit(s)
POLSCI 421 - War (B) 3 Credit(s)
POLSCI 424 - American Foreign Policy (B) 3 Credit(s)
POLSCI 435 - Foreign Policy Analysis 3 Credit(s)
POLSCI 453 - Democratic Theory (D) 3 Credit(s)

AMST 349L - The Cold War: Rise and Fall 3 Credit(s)
ANTH 295L - Introduction to Human Rights 3 Credit(s)
ANTH 324 - A Biocultural Approach to War 3 Credit(s)
ANTH 346 - Culture, Globalization, and the Environment 3 Credit(s)
ASAMST 265L - World War II Internment of Japanese Americans (A) 3 Credit(s)
ECON 334 - International Trade 3 Credit(s)
ECON 335 - International Finance 3 Credit(s)
ECON 336 - Economic Development 3 Credit(s)
ECON 339 - Political Economy of International Migration 3 Credit(s)
ECON 345L - Natural Resources & Sustainable Development 3 Credit(s)
ECON 435 - The Multinational Corporation 3 Credit(s)
ENVSCI 260 - Global Environmental Change 3 Credit(s)
ENVSCI 345L - Natural Resources & Sustainable Development 3 Credit(s)
GLBAFF 308 - Human Security 3 Credit(s)
GLBAFF 313 - Regional Political Economy 3 Credit(s)
GLBAFF 424 - Foreign Policy Analysis 3 Credit(s)
HIST 290G - Globalization in Historical Perspective 3 Credit(s)
HIST 349L - The Cold War: Rise and Fall 3 Credit(s)
HIST 357 - The Vietnam War 3 Credit(s)
HIST 387 - US Foreign Policy since 1898 3 Credit(s)
HIST 389 - The History of Modern Terrorism 3 Credit(s)
LATAM 270 - Human Rights in Latin America 3 Credit(s)
MGT 434 - Mngng Global Environ 3 Credit(s)
POLSCI 333 - Terrorism 3 Credit(s)
POLSCI 406 - Politics of Food Security 3 Credit(s)
POLSCI 407 - US-Latin American Relations 3 Credit(s)
POLSCI 430 - Russian Foreign Policy (B) 3 Credit(s)
SOCIOL 355L - Gender, Development, & Globalization 3 Credit(s)
SOCIOL 372 - Globalization and Social Change 3 Credit(s)
WGS 295L - Introduction to Human Rights 3 Credit(s)
WGS 355L - Gender, Development, & Globalization 3 Credit(s)
WGS 360 - Gender, Culture, and Power 3 Credit(s)
WGS 411 - Transnational Feminisms: Contexts, Conflicts, and Solidarity 3 Credit(s)

Capstone (3 Credits):

IR 499L - Seminar in International Relations (B) 3 Credit(s)
or
POLSCI 499L - Seminar in International Relations (B) 3 Credit(s)
Tuition & Financial Aid

Cost & Aid
Please refer to the following Admissions pages for more information:

For additional information regarding tuition and fees, please visit the Bursar's Office or send an email to Bursar@umb.edu.
Related Minors

International Relations Minor
The International Relations (IR) minor is an interdisciplinary program of specialization based in the Political Science Department but open to all students regardless of major. In most cases, the minor will best serve the needs of students majoring in Anthropology, Business, Economics, Education, History, International Geography, Languages, Management, and Political Science.
Career Possibilities
Represent the United States or your home country on an international scale as a diplomat. Implement programs to improve the social, economic, and political conditions in developing countries as an international development specialist. Or, work as a foreign correspondent, reporting for news outlets on international events and politics, and providing analysis to the public. Whatever your goals, UMass Boston is here to support you.
Become a(n):
Diplomat
Intelligence Analyst
Nonprofit Advocate
International Development Specialist
Foreign Correspondent
Campaign Manager
Peace Corps Volunteer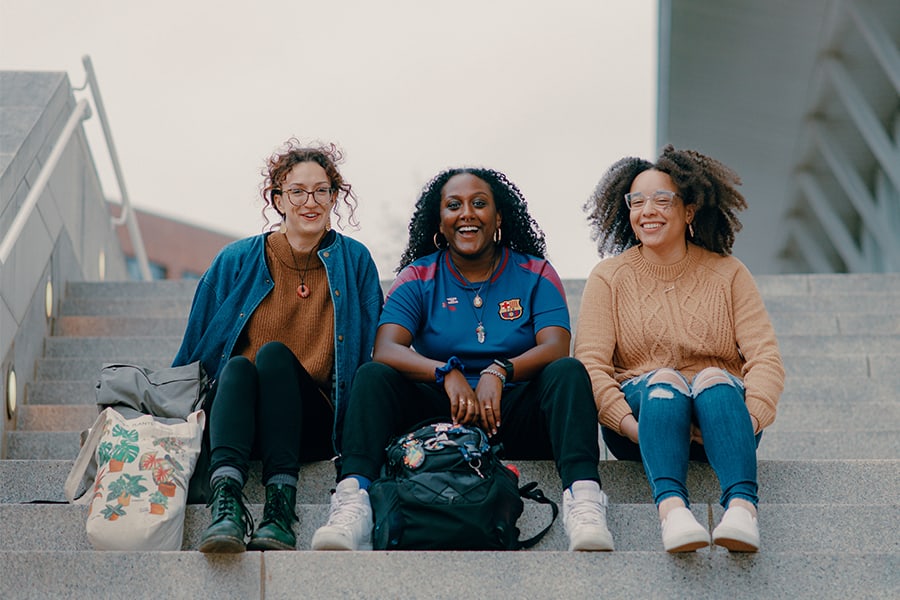 College of Liberal Arts
Interested in learning more about the faculty, research, and range of programs that make the College of Liberal Arts so popular?
Explore Now