External Advisory Board Members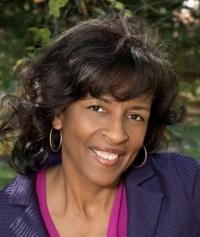 Charlotte Golar Richie, Interim Chair of the Board; Former Massachusetts State Representative; Former CWPPP Distinguished Public Service Fellow
Charlotte Golar Richie is an experienced leader and administrator with a background in public service, political activism, and civil rights. A past Distinguished Public Service Fellow at the Center for Women in Politics and Public Policy, she was recently named to the Center as Interim Board Chair. Charlotte is a former State Representative, Commissioner for the MA Commission Against Discrimination, Housing Chief and Neighborhood Development Director. She also was the city's first African-American woman to run for mayor of Boston. She serves on several nonprofit boards and, for years, has worked to open doors to politics and government to women and people of color. A graduate of Rutgers University, Columbia University's Graduate School of Journalism and Suffolk University's Sawyer School of Management, Charlotte is a former U.S. Peace Corps Volunteer and mother to two adult daughters, who are seeking to effect positive change in their own communities.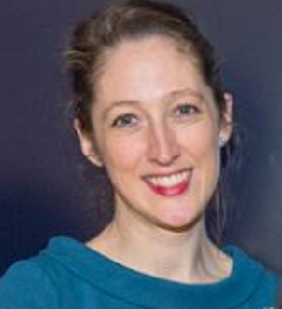 Jill Ashton, Vice Chair of the Board; Director, Massachusetts Commission on the Status of Women
Jill Ashton is a leader and activist in the women's advancement community. Since 2009 she has served as the executive director of the Massachusetts Commission on the Status of Women. In the 2015-2016 Massachusetts legislative session, Ashton led the coalition of organizations that successful stewarded the passage of the Equal Pay Act, a piece of groundbreaking economic justice legislation that, among other provisions, prevents hiring managers from inquiring about salary history. Ashton is committed to developing talent among young women and men, having mentored more than 150 students through the commission's robust internship program and beyond. She currently serves as President of the National Association of Commissions on Women, with which she has increased peer-to-peer learning opportunities to encourage the success of member commissions. A graduate of the Program for Women in Politics and Public Policy at UMass-Boston, she now proudly serves as the vice-chair of the Center's advisory board.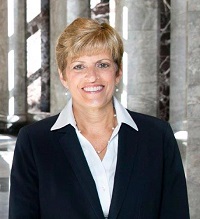 Pamela Berman, President of the Board of Directors, Massachusetts Women's Political Caucus, 2019-2021
Pam is a partner with Robins Kaplan LLP, one of the nation's premier trial law firms with more than 250 lawyers in 8 major cities. She is a trial lawyer with significant jury and non-jury experience. For more than 30 years, she has focused her practice on the broad range of business disputes, including real estate litigation, contract disputes, employment litigation, securities litigation, including the representation of broker-dealers, and defending clients in government investigations in the healthcare, financial and other industries. Clients know Pam to be responsive, quick on her feet, and methodical, carefully planning each case from the outset and reacting quickly when circumstances require a change of strategy. An experienced trial lawyer, Pam thrives in the courtroom. Pam currently serves on the Emeritus Board of the Women's Bar Association of Massachusetts. She also serves on the Advisory Committee for Judicial Nominations for the Federal Court in Boston which she has done since 2013. In 2014, Pam received the Lelia J. Robinson Award from the Women's Bar Association, and in 2013 she was honored with a Massachusetts Lawyers Weekly "Top Women of Law Circle of Excellence" award. She has been honored each year as one of Massachusetts' top Super Lawyers since 2004. Pam is the past president of the National Conference of Women's Bar Associations and the Women's Bar Association of Massachusetts. She is was the President of the MAssachusetts Women's Political Caucus from 2019-2021. She holds a B.A. magna cum laude from Wells College where she graduated Phi Beta Kappa, and a J.D. from Cornell Law School. Pam is a resident of Canton, Massachusetts where she lives with her husband and raised their three children.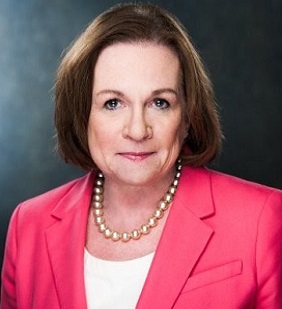 Martha Bernard Welsh, Board President, Dress for Success Worcester
Martha Bernard Welsh leads the Polly Logan Fund at CWPPP, which was created and named for a longtime and highly influential leader in Massachusetts Republican politics who, in her day, was an advocate for women's rights, equal pay, the Equal Rights Amendment, abortion rights and more. Polly Logan was especially passionate about educating and mentoring women as candidates and activists. Martha's career has included executive roles in healthcare and financial communications, retirement and financial planning. She led national public education campaigns on mental health and women's health, health literacy training for seniors, and retirement financial planning. In Boston she helped to launch two non-profit organizations that provide free temporary housing for families of children requiring extensive medical care far from their homes. Currently she is Board President of Dress for Success Worcester which helps women in the Greater Central Massachusetts region learn skills related to job readiness including resume writing, interview research and strategies, and financial acumen. Once these clients are ready for their interview, they are individually dressed in business appropriate clothes – all of which give them the confidence to move forward.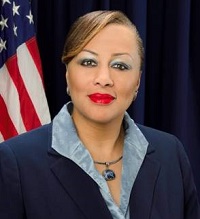 Celia Johnston Blue, President and CEO, Massachusetts Women of Color Coalition; Deputy Director and Chief Administrative Officer, Rhode Island Department of Human Services
Celia J. Blue is a seasoned executive leader with 25 years of experience working in the private, public and nonprofit sectors. Currently, she is the President and CEO of the Massachusetts Women of Color Coalition. She is also the Deputy Director and Chief Administrative Officer for the Rhode Island Department of Human Services, overseeing human resources, information technology systems and support, performance analytics and continuous improvement, civil rights, diversity, equity and inclusion. Celia is the former Registrar of Motor Vehicles for the Commonwealth of Massachusetts and is the first African American in Massachusetts history to serve as the Registrar. As Registrar, she managed operating and capital budgets totaling $280 million and oversaw approximately 800 employees in 31 locations.Celia holds a Bachelor of Science degree from Worcester State University and a Master's degree in Business Administration from Anna Maria College. Celia is a board member of UMass Center for Women in Politics and Public Policy and sits on additional boards in Central and Eastern MA.
Tess Browne, Sisters of Charity Nazareth
Marie-Therese Browne, S.C.N., known as Sister Tess, has three decades of experience in social justice organizing, including with the United Farm Workers in Wisconsin and Texas, the Committee for Boston Public Housing; and various interfaith social justice projects, including the Racial Justice Working Group of the National Council of Churches.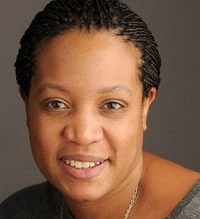 Karen Charles, Commissioner, Massachusetts Department of Telecommunication and Cable
Karen Charles is Commissioner of the Department of Telecommunications and Cable, where she serves as the principle communications regulator for the Commonwealth of Massachusetts. In addition to her duties at the Department, Commissioner Charles is a member of the National Association of Regulatory Utility Commissioners serving on the association's Board of Directors and is Chair of its Committee on Telecommunications. Commissioner Charles also serves as NARUC representative to the North American Numbering Council. Commissioner Charles is also involved in broadband policy development, and is a member of both the Massachusetts Broadband Institute and the FCC's Broadband Deployment Advisory Council. Prior to her appointment as Commissioner in 2014, Karen joined the Department as its Chief of Staff in 2012. Karen brings to the Department years of leadership experience in both city and state government, having served as Chief of Staff for the Registry of Motor Vehicles, the Executive Office of Transportation, and the Massachusetts Bay Transit Authority. Before joining government, Karen was a producer for the award winning news program, Greater Boston with Emily Rooney on WGBH. Karen is a graduate of Suffolk University and the Center for Women in Politics and Public Policy at the University of Massachusetts Boston.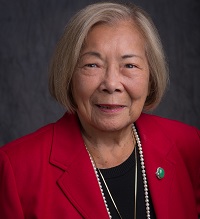 Helen Chin Schlichte, Co-Founder and President Emeritus, South Cove Manor Nursing and Rehabilitation Facility
Helen Chin Schlichte is the past President of the South Cove Manor Nursing Home, and former vice-chair of the boards of directors of the United Way of Massachusetts Bay and Merrimack Valley and the Beth Israel Deaconess Medical Center. She now serves onn the Boys and Girls Clubs of Boston Senior Advisory Board and on the Youth Villages Board of Directors. She entered public service in 1949 and retired in 2003 from her position as Assistant to the Secretary for Administration and Finance in Massachusetts. During her service she served 13 Secretaries and 12 Governors. Throughout her career, Schlichte served in leadership positions in many nonprofit organizations. In 2008, Schlichte, a former Kwong Kow Chinese School student, a 93 year old heritage language school, was invited to be volunteer chair of the Board. As one of the first Asian women to achieve prominence as a public administrator, Schlichte has been an effective mentor and strong supporter of women aspiring to careers in government. Schlichte gives credit to her parents for instilling her with a commitment for service in the community.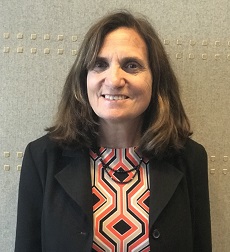 Karen Courtney, Executive Director, Foundation for Fair Contracting of Massachusetts

Cheryl Clyburn Crawford, Executive Director, MassVOTE
Cheryl Clyburn Crawford is the Executive Director of MassVOTE. Cheryl is the 1st Vice President of the NAACP-Boston Branch. She is a former Executive Board Chair of EmergeMA, a political leadership training program. Cheryl sits on the Women's Pipeline for Change's Oversight and Planning Board. She is an active member of the Order of the Eastern Star; a Prince Hall affiliated organization. She is a member of the Attorney General's Advisory Council on Racial Justice and Equity. Most recently she was appointed to the Citizen's Commission on Constitutional Amendment, as well as a board member of American Promise.Before MassVOTE, Cheryl served as Campaign Manager and then Chief of Staff to State Representative Willie Mae Allen. Born in New York, Cheryl grew up in Boston; and is a graduate of Lesley College, Cambridge, MA.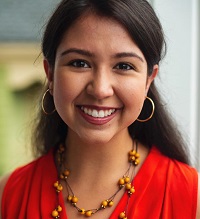 Anna Del Castillo, IGNITE National Fellow; MDiv Candidate, Harvard Divinity School; Puffin Democracy Fellow, Andrew Goodman Foundation; Interfaith American Racial Equity Fellow, Interfaith Youth Care
Anna Del Castillo is serving her second year as the Boston Fellow for IGNITE National, a political training organization for young womxn. She is currently pursuing a Master of Divinity as a Dean's Fellow at Harvard Divinity School where she studies at the intersection of social justice, spirituality, and public policy. Anna cultivates her passion for justice centered work by serving as an Interfaith American Racial Equity Fellow, an Andrew Goodman Foundation Puffin Democracy Fellow and an IGNITE the Vote ambassador. Anna is a proud Mississippian, second-generation Peruvian-Bolivian immigrant, and faith-rooted activist for justice.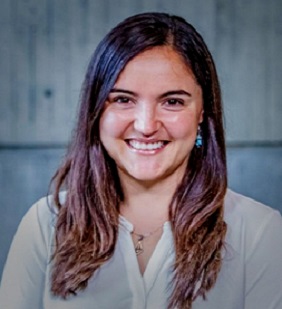 Tania Del Rio Solorzano, Executive Director, YWCA Cambridge
Tania Del Rio is Executive Director of the YWCA Cambridge, where the mission is to empower women and eliminate racism. The YWCA Cambridge offers 103 individual units of quality, safe, single room occupancy housing for women who need a supportive environment to live and grow, as well as ten units for families. The YWCA also provides leadership programming for girls. Previously, Tania was Executive Director of the Mayor's Office of Women's Advancement, where she focused on promoting gender equity by empowering women and removing systemic barriers to their advancement. Her three priority areas were economic equity, safety, and representation. She previously worked with the Ministry of Foreign Affairs of Mexico on using data to identify barriers for female diplomats in the Foreign Service. Her work was presented with the Outstanding Policy Analysis Exercise and the Jane Mansbridge Research Awards for research on women and gender at the Harvard Kennedy School. Earlier in her career, Tania was the Head of the Protection and Community Affairs Departments at the Consulate of Mexico in Boston. In that role, she worked to protect the rights of immigrants in New England and collaborated with community leaders to amplify their advocacy efforts.
Carol Donovan, Former Massachusetts State Representative
Former Representative Carol A. Donovan of Woburn served seven terms in the Massachusetts House of Representatives. She is president of the 1991 Class of Legislators and during her last term she served on the Energy Committee, and the Personnel & Administration Committee. She was a member of the Special Committee on Foster Care. During her 14-year tenure as State Representative, she served as a member on the following committees: Ways and Means, Rules, Housing, Banks & Banking, Rules and Public Safety. She was Treasurer for the Massachusetts Caucus of Women Legislators and a member of the Legislative Caucus of Older Citizens Concerns, the Massachusetts Legislative Children's Caucus (Steering Committee), and the Legislative Tobacco Control Caucus. She formerly served as the Vice Chair of Bills in Third Reading and as Vice Chair of the Post Audit and Oversight Committees. Donovan served on the Executive Board of the National Council of State Governments (CSG) organization and as a member of the Eastern Regional Executive Board of the CSG. She is an active member of the Massachusetts Women's Political Caucus and the national organization of WiLL/WAND (Women's Legislative Lobby/Women's Action for New Directions). In 1996, Donovan was elected to the Massachusetts Electoral College as an Elector for President Clinton and Vice President Gore. She has her bachelor's and master's degrees from Regis College.
Melissa Ferretti, President, Herring Pond Wampanoag Tribe
Born in Wareham, the daughter of Bernard Marsden Harding (Herring Pond Wampanoag), raised in Cedarville/South Plymouth by Verna May Harding (Herring Pond Wampanoag Tribal Elder). Melissa attended Plymouth Carver School system most of her life and graduated from Pembroke Academy, NH. She attended Cape Cod Community College and studied Information Technology. She is a happily married Mother of two wonderful sons and a proud Grandmother of three.
Her professional career began in early 1998 in a position at the Town of Mashpee, Town Clerk's office. She then worked for the Mashpee Wampanoag Tribe as the Executive Administrative Assistant for a few years. In 2003 Melissa went on to become a Commonwealth of Massachusetts licensed Real Estate Sales Associate and Notary Public -- she still holds these designations today and is currently affiliated with Jack Conway & Company. She is the former Vice President of Operations for Select Staffing of MA, a position she held for over 6 years. Currently alongside her real estate work she does freelance research, consulting, and back office/bookkeeping. Melissa is proudly on her second term as the elected Chairwoman of the Herring Pond Wampanoag Tribe located in Plymouth MA. She volunteers much of her time to better her community. In her dedicated role as chairwoman she has worked tirelessly on the many initiatives and challenges that indigenous communities face on an everyday basis. Some of the work she has dedicated her time to, includes but is not limited to the protection of sacred sites and ancestral burial grounds, tribal archival research, documentation and digitization, advocacy for tribal rights and self-determination, mental health, substance use, addiction and prevention and she is passionate about educating the non-native public about the Herring Pond Wampanoag Tribe and its rich, well documented history. This past Spring 2020 she co-taught an undergraduate course alongside Dr Amy Den Ouden at the University of Massachusetts Boston In the Women's Gender Studies Department, namely Indigenous Women's Leadership and Tribal Nation Self Determination.
Jovita Fontanez, Former Head of Boston Election Commission
Jovita Fontanez is a pioneer of Latina Leadership in Massachusetts politics. She has had a remarkable career, including being the first woman and Latina Commissioner for the City of Boston's Election Department, one of the first Latina commissioners of the City's Fair Housing Commission, and the first Latina elected to the Massachusetts Electoral College. In her impressively diverse career, Fontanez has also served as Associate Director of the South End Community Health Center and worked on the creation of Case Ezperanza's Latinas y Niños, Boston's first residential treatment facility designed to address the unique bicultural needs of Hispanic mothers. Fontanez is as award-winning leader known for developing outreach strategies and programming – with special emphasis on identifying underserved populations – and ensuring access to key services including voting rights, health care, housing, and diversity on oversight boards. She earned her master's degree in public administration from Northeastern University, her bachelor's degree from UMass Boston, and completed graduate-level programs at both Harvard Business School and Harvard Kennedy School of Government.
María Rosario González Albuixech, Director of Communications and Immigrant Health, Health Care for All
María Rosario González Albuixech is the Director of Communications and Immigrant Health at Health Care For All. A native of Spain, María earned Bachelor's degrees in Communications and German studies at the University of Valencia, Spain and Bremen University, Germany. She also holds a Bachelor of Journalism from Carlos III University in Madrid, Spain. In 2004, she moved to the US to complete a master's degree in Political Science and International Relations at Suffolk University. After graduation, she was hired as the associate editor for "El Mundo" newspaper, and in 2006 joined Noticias Univision Nueva Inglaterra as an on-air personality, where she held positions as news reporter, news anchor and news producer. After almost a decade working in media outlets, María transitioned into communications, marketing and public relations roles, first as the Community Education Manager at the Massachusetts Department of Public Health, and later at Health Care For All (HCFA).
Tahra Goraya, President and CEO, Goraya Consulting
Tahra Goraya is an experienced professional with strong skills in leadership, management, strategy, public affairs, and crisis communication. She has over 15 years of experience in diverse issue areas across multiple sectors including nonprofit management and state government. Goraya has served in the following capacities: Director for Zero to Three Western Regional Office, a national early childhood public policy and research organization; District Director for California State Senator Carol Liu; National Director for the Council on American Islamic Relations (CAIR), a national American Muslim civil rights organization in Washington, DC; as Executive Director of Day One in Pasadena, a substance abuse prevention and policy organization; and Director of Prevention for Ebony Counseling Center. Her familiarity in crafting public policy, leveraging strategic relationships, building cross cultural coalitions, and organizing multi-faith and grassroots communities helped her to successfully pass over a dozen policies. Native of California, Goraya is a graduate of University of California at Irvine with a degree in Biology and from the Harvard Kennedy School of Government with emphasis in management, leadership, and decision sciences. Goraya holds a certificate in Gender, Leadership and Public Policy from McCormack Graduate School of Policy and Global Studies at UMass Boston and is a former Policy Fellow with Women's Foundation of California. Notable achievements include Barbara Jordan Award recipient for Women's Leadership from the Harvard Kennedy School Woman and Public Policy Program, Nonprofit Executive Director of the Year by the California State Senate and Assembly, Elected in the Town of Milton, and Advisory Board Member for Center for Women in Politics and Public Policy at UMass Boston. Goraya is passionate and dedicated to several social justice issues, gender equity, and interfaith relations. She resides in Milton with her husband Sam, and their daughters Noor and Sofia.
Diana Hwang, Founder and Executive Director, Asian American Women's Political Initiative; Political Organizing Director, She the People
Diana Hwang is the Founder and Executive Director of the Asian-American Women's Political Initiative (AAWPI). Diana began her career in politics at the State House as the Executive Director of the Caucus of Women Legislators and as the Legislative Aide to late State Representative Debby Blumer (D-Framingham). She then served as Chief of Staff on the Boston City Council. Diana is a Founding Commissioner on the Mayor's Women's Commission for the City of Boston. She also serves on the Boards of the Center for Women in Politics and Public Policy (CWPPP) at the University of Massachusetts Boston and the Salesian Boys and Girls Club of East Boston, and served as Co-Chair of the Board of Directors for the Boston Women's Fund. Diana was profiled as "one of Boston's most powerful thought leaders" in Boston Magazine and has spoken at the Center for American Progress in Washington, D.C. and at a number of colleges, including Salem State University, Wellesley College, Northeastern University and Dartmouth College about starting AAWPI.
Jocelyn Jones, Attorney, Segal Roitman, LLP
Jocelyn B. Jones advises public and private sector unions and individual employees as both a litigator and a policymaker. Jocelyn's practice includes collective bargaining, arbitrations, administrative proceedings, court litigation, private enforcement of the wage and hour laws, and government relations. She provides strategic counsel to labor organizations on public policy, including licensing, regulatory enforcement, bid protests, and legislative advocacy on the federal, state, and municipal levels. For more than 15 years, Jocelyn served in the Fair Labor Division of the Massachusetts Attorney General's Office, serving at various times as Acting Chief, Deputy Chief, and Special Counsel for Fair Labor Policy, and Assistant Attorney General. As an AAG, Jocelyn prosecuted hundreds of wage and hour and employee misclassification cases. As Deputy Chief for over eight years, Jocelyn guided enforcement, particularly in the construction arena, oversaw complex litigation and managed the public construction bid unit. Additionally, she advised the Attorney General on public policy, and worked closely with the Legislature and state and federal agencies and Division stakeholders. Jocelyn served on the Commonwealth's Joint Task Force on the Underground Economy & Employee Misclassification, and was appointed to the Massachusetts Commission to Investigate Project Labor Agreements. In 2015, Jocelyn played a central role in drafting and implementing the Commonwealth's Earned Sick Time and Domestic Worker regulations. Previously, Jocelyn worked at a Boston labor law firm representing unions and employees.
Representative Kay Khan (D - Middlesex 11th)
State Representative Kay Khan has represented Newton in the Massachusetts House of Representatives since 1995. She currently serves the 11th Middlesex district, which consists of Ward 1: Precincts 2, 3, Wards 2, 3, 4, and Ward 7: Precinct 2. Representative Khan has championed many projects to completion, including the implementation of the Auburndale and Waban sound barriers, the construction of the Lower Falls Pedestrian Bridge and the renovation of the Lower Falls Community Center. Currently, the Representative is working with a coalition of stakeholders to make all three Newton Commuter Rail Stations accessible and has already secured over $20 million in funding for the project through the Capital Improvement Plan. Representative Khan's legislative portfolio celebrates and promotes diversity; she is an unshakable advocate for equal rights for all individuals, young and old, in the Commonwealth.
Representative Elizabeth Malia, (D – Suffolk 11th)
Elected to the House of Representatives in 1998, Liz Malia represents the 11th Suffolk District. Serving a district that consists of parts of Jamaica Plain, Roxbury, Dorchester and Roslindale, Representative Malia has dedicated her tenure to constituent services and improving the quality of life for residents in her district. She has worked extensively on public safety issues, improving community relations with the police, worked to promote independence and well-being of the elderly and worked to ensure transparent and inclusive community development processes. In the legislature, she serves as the Assistant Vice Chair of the Committee on Ways and Means. She also serves on Joint Committee on Labor and Workforce Development and as the House Chair of the Women's Legislative Caucus (191st General Court).
As the former House Chair of the Joint Committee on Mental Health, Substance Use, and Recovery for more than a decade, Representative Malia led efforts to improve access to mental health and substance abuse services, especially in communities of color. She received the Presidential Award by the Massachusetts Psychiatric Society and the Kathleen M. Scanlan Advocacy Award by the Massachusetts Council on Compulsive Gambling for her commitment to mental health issues.
In addition, Representative Malia led the legislative efforts against human trafficking and has championed such issues as marriage equality, CORI reform, foreclosure legislation, affordable housing, immigrants' rights, women's health issues and many others. Born in upstate New York, Liz Malia earned a Bachelor of Arts degree from Boston College and later attended the Women in Politics and Government program at UMass. She lives in Jamaica Plain with her wife Rita and their dog, Bobo.
Representative Liz Miranda, (D – Suffolk 5th)
State Representative Liz Miranda represents the 5th Suffolk District, the most of color district in Massachusetts. As the daughter of Cabo Verdean immigrants, she has been a tireless advocate for immigrant rights. She also has filed legislation around reform to save Black lives, improve racial disparities in maternal health, promote environmental justice within disproportionately impacted communities, and ensure a just recovery for micro-to-small businesses most impacted by the COVID-19 pandemic. In response to the COVID-19 pandemic, she was the first legislator in the Commonwealth to establish a district-led community care program that assisted over 3,000 vulnerable residents in Roxbury and Dorchester with food security, housing assistance, unemployment assistance, and access to COVID-19 testing.
Evelyn Murphy, President, The WAGE Project, Inc.; Former Lieutenant Governor
PhD economist Evelyn Murphy is founder and President of The WAGE Project, Inc. established in 2003 as nationwide grass roots nonprofit dedicated to eliminating the gender wage gap in America. WAGE salary negotiation workshops for women are now being provided to 10 million women by the American Association of University Women., while WAGE focuses on efforts to eliminate racial and gender biases under employers' roofs.
Dr. Murphy served at Massachusetts Lieutenant. Governor, Secretary of Environmental Affairs and Secretary of Economic Affairs. Her current civic board responsibilities include Co-Chair of the Boston Women's Workforce Council and Director of The Commonwealth Institute. Dr. Murphy has served on publicly traded corporate boards, mutual and privately held businesses.
Susan Rohrbach, Chair, Cape Women's Coalition; Former District Director, Senator Daniel Wolf
Sue Rohrbach is currently the Chair of the Cape Women's Coalition, a Cape Cod organization that works to encourage women to become active in local government and civic life through educational events, an annual International Women's Day Breakfast, and collaboration with other local women's organizations. Retired now, she spent 14 years of her career as District Director for former State Senators Rob O'Leary and Dan Wolf. Earlier, she coordinated successful lengthy campaigns for The Cape Cod Land Bank and the preservation of 15,000 acres at Joint Base Cape Cod for water protections and compatible military training. She has been extensively involved in local government, serving on the Barnstable Town Council, Planning Board, Community Preservation Committee, and others. She now serves on several local non-profit boards. Sue received a Graduate Certificate from the Center in 1995.
Digna Saad, Executive Director, Rahama
Digna Saad is the Vice-President for Talent and Strategy for Gallup Organization in the Dominican Republic. She is a seasoned strategy development consultant and coach who integrates the wisdom of pragmatic experience in the field with sound academic theory to produce holistic organizational and personal transformation. She has lead and crafted multi-year strategic plans and talent development strategies for a myriad of organizations in private and public sectors. Digna approaches each new coaching and consulting engagement with curiosity and reverence. By asking provocative, timely and adequate questions she uncovers unchartered pathways that lead leaders and organizations to new levels of excellence.
Digna's clients range from Fortune 100 and 1000 companies to NGOs, school districts and foundations. She has worked with emerging leaders as well as C-suite executives to co-create successful individual development strategies that can link personal achievement with business outcomes. Her work extends to several countries, particularly Latin America. She enjoys working with diverse populations.
Digna is an accomplished facilitator, executive coach, learning leader and consultant. She often leads strategic planning sessions with executive teams and partners with clients to build a talent management strategy closely tied to their key objectives. Digna has led teams to turnaround failing departments in corporate America, colleges and many mid to larger non-profits organizations. One of her strengths is her demonstrated ability to implement and lead transformation regardless of context. She understands people and has been a vehicle to allow people to understand themselves. Grounded in self-awareness she had guided leaders to maximize their strengths and mitigate their weaknesses.
Rachel Sagan, Co-Founder, Metrowest Women's Fund
Rachel enjoys a professional life dedicated to public interest law, philanthropy and non-profit management. She recently worked as the Executive Director of the United Way of Acton-Boxborough. Rachel is the Principal of Our Generosity Matters, a Philanthropic Advising Practice to family foundations, non-profits and donors . She Co-Chaired the Board of the Women's and Gender Studies at Brandeis University. She graduated from Northeastern University School of Law and Harvard University. Rachel is honored to have received the 2nd Annual John R. Heerwagen Award for Nonprofit Leadership by the Middlesex Savings Charitable Foundation and the Outstanding Non-Profit Executive Director of the Year by the Middlesex West Chamber of Commerce.
Lauren Scribi, Director of Programs and Government Relations, Edward M. Kennedy Institute for the United States Senate
Lauren Scribi is the Director of Programs and Government Relations at the Edward M. Kennedy Institute for the United States Senate where she works with elected leaders and produces public programs for adult audiences. After spending seven years working for the Massachusetts Legislature, Lauren believes in the ideals of government, democracy and civic engagement.
During her tenure as Executive Director of the Massachusetts Caucus of Women Legislators, she worked on the unanimous passage of the most comprehensive equal pay legislation in the country along with other successful efforts to make the Commonwealth a more equitable place for women. She has been appointed to numerous boards and commissions, served as Legislative Aide to former State Representative Rhonda Nyman (D-Hanover) and was selected to travel to Ukraine, Israel and Jordan with the US Department of State. Lauren holds a BA in history and political science from the University of Vermont and an MA in magazine journalism from Kingston University London.
Ingrid Tucker, Head of School, Cambridge Montessori School; President, Boston Alumnae Chapter of Delta Sigma Theta Sorority
Dr. Ingrid Tucker is a dedicated and passionate educator who has experience in leading independent schools in urban and suburban communities for 25 years. Dr. Tucker is the Head of Cambridge Montessori School (CMS) where she has made a significant impact in the strategic vision, student experience, investment in faculty and family engagement. Prior to joining CMS , Dr. Tucker was the President of Mother Caroline Academy & Education Center in Dorchester, a tuition-free middle school serving girls from economically disadvantaged communities in the City of Boston. Dr. Tucker is also the President of the Boston Alumnae Chapter of Delta Sigma Theta, a public service Sorority. She is passionate about volunteering her time in schools and communities in need. Dr. Tucker is also an ordained pastor who co-founded Awaken Christian Church with her husband of Phillip. She and Phillip have four adult children; three daughters and one son. They reside in Milton, MA.
Laurie Taymor-Berry, Legislative AdvocaSprinte, Criminal Justice Policy Coalition
Laurie Taymor-Berry began social and economic justice work as an organizer for the Mississippi Freedom Democratic Party in 1971. She worked as a Protective Social Worker and Program Development Specialist for the Massachusetts Department of Social Services for over a decade before serving as the Legislative Liaison for Survivors' Inc. a low-income women's nonprofit for the next twenty years. Currently, Laurie serves on the External Advisory Board of the Center for Women in Politics and Public Policy at UMass, Boston and has been a longtime member of the Boston Branch of the Women's International League for Peace and Freedom.
Susan Tracy, President, The Strategy Group
As President of The Strategy Group, Susan works with clients on strategic planning, communications and community relations. Susan is widely respected for her ability to develop precise strategies that achieve a client's objectives by reaching out to targeted community members, media outlets and governmental officials with clear, concise and compelling messages. She is also an experienced manager who combines a keen eye for detail with her ability to successfully supervise and direct projects and teams of all sizes.
Susan was elected to the Massachusetts House of Representatives in 1990, serving Allston-Brighton for four years. In her second term, she was appointed to the House Ways and Means Committee and named Vice Chair of the Committee on Natural Resources and Agriculture. In 1995, after working for 10 years in state and local government, Susan began her own consulting practice, Tracy & Company. The firm assisted political figures, non-profit organizations and private sector clients with strategic planning and community relations advice. Prior to serving in the Legislature, Susan worked for the City of Boston, where she served as Director of the City's Emergency Shelter Commission, coordinating Boston's services for the homeless. Susan also worked as a member of the City's state relations team and coordinated statewide efforts for the Mayor of Boston. Susan has managed a City of Boston Mayor's race and done extensive political work locally and nationally. In 1998, she ran for Congress from Massachusetts' 8th Congressional District. Susan won endorsements from a diverse group of constituencies and praise from a wide range of political observers.
Susan serves on a number of Boards, including Pine Street Inn and Save the Harbor Save the Bay. She holds a Masters in Public Administration from Harvard's John F. Kennedy School of Government and a Bachelor's Degree in Political Science from Boston College. Susan resides in Newton, MA with her family.
Rosario Ubiera-Minaya, Executive Director, Amplify Latinx
Rosario Ubiera-Minaya​ is a leader, community activist, and social entrepreneur originally from the Dominican Republic. She has over 25 years of experience working and advocating for systemic change, social justice, and equity, on behalf of the Latinx community, in the areas of education, housing, voter engagement, public health, and the arts. She has successfully developed and implemented initiatives that have made impactful contributions to promoting the social and economic wellbeing of the Latinx community. Rosario is the Executive Director of Amplify Latinx, a non-partisan, collaborative movement whose mission is to build Latinx economic and political power by significantly increasing Latinx civic engagement and representation in leadership positions across sectors. Rosario is leading a Latinx power coalition of over 4,000 active members and over 150 business and community partners. She is also the founder and principal of Cojuelos' Productions, a social enterprise that proudly celebrates black and brown creatives' artistic expressions by promoting innovative, diverse, and culturally oriented programming and curated experiences through an education social justice lens. Rosario's vision has led to what it is today the PUNTO Urban Arts Museum in Salem, an outdoor collection of public art that serves as a vehicle to start breaking down the socioeconomic and invisible divides that exist in low-income communities of color.
Former External Advisory Board Members
Betty Taymor, Founder, Program for Women in Politics & Government
Betty Taymor began her life's work in public service in 1956 when she ran for the Democratic State Committee in order to support her candidate for the US Senate, John F. Kennedy. Among her extraordinary achievements, Betty served as an eight-term delegate to the Democratic National Convention and held leadership positions, including an appointment to the US National Commission for UNESCO. Complementing her political achievements, Betty has dedicated her life to educating and mentoring young women.In 1968, Betty established a graduate program to train women for careers in government and public service at Simmons College. The program was housed at Boston College for 20 years and in 1992 moved to its current home at the University of Massachusetts Boston. With nearly 1000 alumnae, the program, now known as the Gender, Leadership, and Public Policy graduate certificate program, continues to educate a diverse, international group of women who have gone on to distinguished careers in government, non-profit organizations, and academia. Six alumnae are serving or have served in the Massachusetts House of Representatives. In 1994, the Center for Women in Politics and Public Policy was established at UMass Boston. Growing out of the academic program, CWPPP is both the research and convening arm of Betty's vision.Alice Wolf
Beth I. Z. Boland, Esq.
Sonia Chang-Diaz
Katherine Clark
Joyce Ferriabough
Lida Harkins
Cheng Imm Tan
Liz Levin
Ruth Nemzoff
Nancy Norman
Sherry Penney
Sue Reamer, PhD
Pamela Resor
Marta Rosa
Nancy Ryan
Marie Turley
Our Services
Our educational activities, events, and research projects are typically conducted in collaboration with many types of organizations. We are available to provide program evaluations, commissioned research studies, policy briefs, and fact sheets. (PDF)

Read MoreRead MoreRead MoreRead MoreRead MoreRead MoreRead MoreRead MoreRead MoreRead More
Support Our Work
Financial donations help to enhance the Center's capacity to promote women's leadership and empower women throughout the Commonwealth and beyond.

Read More