Womens Political Leadership
Women's Political Leadership
The Center for Women in Politics and Public Policy (CWPPP) promotes diverse women's political leadership through a number of core programs.
The NEW Leadership® political leadership training program was offered virtually for Massachusetts undergraduate women for the first time in 2021. Undergraduate women at two and four-year colleges and universities were eligible to apply. The NEW Leadership™ (NEWL) program was developed by the Center for American Women and Politics (CAWP) at Rutgers University more than 20 years ago, and CAWP still leads the network of NEWL programs around the country. The nonpartisan training program aims to educate college women about the political process, help them recognize the value of civic engagement and the importance of having women in positions of political leadership, and to empower them to become leaders themselves. Program alumnae have gone on to run for public office, work with advocacy organizations on local and national campaigns, and some have even gone on to work on Capitol Hill. For more information, please email: glpp@umb.edu.
CWPPP's Distinguished Public Service Fellows Program was launched in 2016 to build bridges between generations of women in public leadership and prepare the next generation of leaders, with a particular emphasis on advancing the leadership of women of color. We welcomed our third cohort of Fellows beginning their residence in January 2021.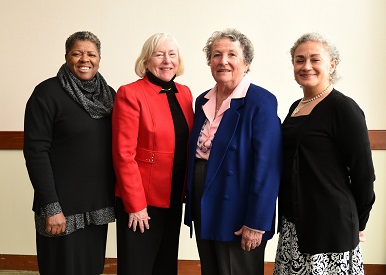 The Women's Public Leadership Archive is a repository documenting the lives and careers of Massachusetts' distinguished women political leadership and other public servants. CWPPP staff and volunteers work with UMass Boston's Healey Library archivists to document and preserve the legacies of women political leaders in the Commonwealth.
The Pathways to Political Leadership for Women of Color project was the result of an innovative research partnership between the Center for Women in Politics and Public Policy and the Women's Pipeline for Change. These web pages offer resources to help women of color advance in public leadership roles in Massachusetts.
---
Center for Women in Politics and Public Policy

Healey Library, 10th Floor, Room 12
University of Massachusetts Boston
100 Morrissey Blvd.
Boston, MA 02125 USA
617.287.5541
Maps & Directions