New Leadership Summer Institute
NEW Leadership Summer Institute 2022
A Political Leadership Training Program for MA Undergraduate Women Begin Your Journey Here!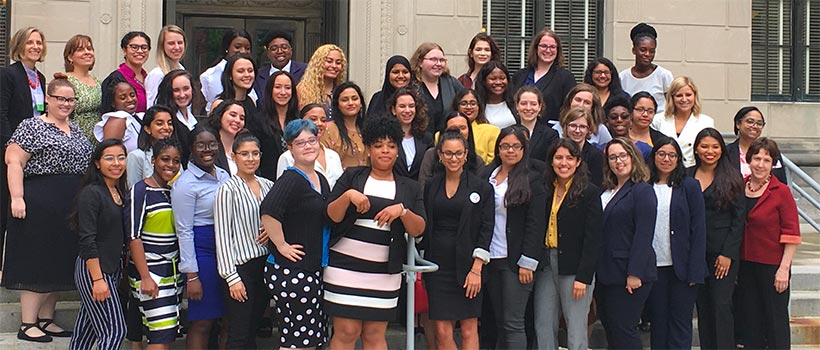 About NEWL
NEW Leadership® (NEWL), a non-partisan five-day program, gives young women the tools to become effective leaders in the political arena regardless of their academic interests or career path. During the summer institute, students will meet women leaders from across the state, learn about women's participation in American politics, and develop and practice leadership skills through panel discussions, workshops, and projects. After the summer institute, participants become part of NEWL's national network of distinguished alumnae. The NEWL program was developed by the Center for American Women in Politics (CAWP) at Rutgers University, and CAWP coordinates the national network of NEWL programs.
Download the report summarizing the participants' assessment of NEWL-MA 2021.
The NEW Leadership® Summer Institute 2022 will be held on:
Wed. June 22, 9 am to 1:30 pm

(virtual on zoom)
Thur. June 23, 9 am to 1:30 pm

(virtual on zoom)
Fri. June 24, 9 am to 2 pm

(on-campus with overnight accommodation provided for non-local students on 6/23)
Students will participate in and attend a series of exciting virtual events each day and have access to online resources. Breaks are scheduled throughout the course of each day.
Cost
NEWL is completely FREE for all students admitted into the program.
Home institutions (departments or other units) that are able to are asked to partner with CWPPP by contributing $200 ($100 for community colleges or smaller non-profit organizations) toward the cost of the program. NB: This contribution, while appreciated, is not required for your students to attend NEWL. Any questions or concerns about this can be sent to glpp@umb.edu .
Eligibility
NEW Leadership® Massachusetts program is now open to all undergraduate students enrolled at any Massachusetts two or four-year college or university, recent high school and college graduates, as well as Massachusetts residents enrolled in out-of-state two or four-year colleges or universities. CWPPP is committed to including students from diverse socioeconomic, sexual orientations, gender identities, and ethnic and racial backgrounds in each NEW Leadership® program. We particularly encourage women of color, non-traditional college women, students who may be gender non-conforming, nonbinary, or transgender, and students majoring in fields outside political science to apply.
Students from other states in the NEW Leadership® National Network are encouraged to apply with their state's program. Click here for a list of NEW Leadership® National Network partner programs in each state and their contact information.
How to Apply
The application deadline has been extended to midnight on Thursday, June 16th. Applications submitted after June 16th will be considered on a space-available basis. Please email glpp@umb.edu with any questions at all about the application, deadline, or program.
Commitment
NEW Leadership® participants are expected to participate in all (or at least most) of the NEWL-MA Summer Institute sessions and to be part of the NEW Leadership national network when they complete the program.
Please send any questions to Muna Killingback, CWPPP Assistant Program Director, at muna.killingback@umb.edu .
Center for Women in Politics and Public Policy
Healey Library, 10th Floor, Room 12
University of Massachusetts Boston
100 Morrissey Blvd.
Boston, MA 02125 USA
617.287.5541
Maps & Directions
The center is affiliated with the John W. McCormack Graduate School of Policy and Global Studies.