Disability Rights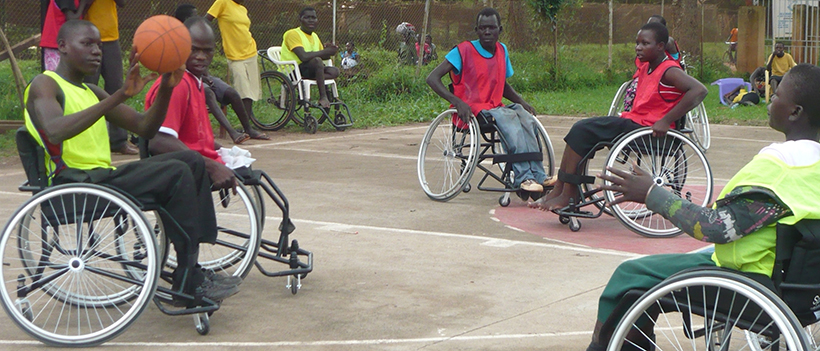 Tanzania: Inclusive Education Programming
Dr. Valerie Karr, an associate professor at SGISD, is conducting a formative evaluation of inclusive education programming on Soma Nami radio programs to assess the reach, content, and reactions to format of the Social and Behavior Change Communication (SBCC) campaign program on parental and community perceptions. This assessment will provide feedback to inform the next round of radio programs. An additional study seeks to understand barriers to school enrollment and attendance for out of school children (OOSC) with disabilities in Tanzania with the focus on early grade children with disabilities. This research will shed light on the extent to which interventions for OOSC are likely to be adopted or not, as well as their potential effectiveness for future donor programming.
Multi-Country Inclusive Education Study in Malawi, Cambodia, and Nepal.
Dr. Valerie Karr leads a team of international experts across six universities, a research assistant from SGISD, and two staff members from the Institute for Community Inclusion for the Multi-Country Inclusive Education Study. The three-year project through Purdue's University's LASER PULSE Consortium investigates new USAID programming in Cambodia, Malawi, and Nepal in order to identify what works to sustainably advance teaching and learning outcomes for children with disabilities in varying contexts and ultimately improve current and future programming through recommendations to current implementing partners at the midline and broader recommendations for USAID at endline.
Lebanon: The Lived Experience of Refugee Children in Informal Camp Settlements: A Photovoice Project in the Bekaa Valley of Lebanon
Partnering with the Kayany Foundation, which seeks to provide educational opportunities to Syrian refugees in the Bekaa Valley of Lebanon, Dr. Valerie Karr directed a series of advocacy and awareness campaigns using arts-based research methods to fight for the rights of young girls and boys. The first study in Lebanon used photovoice—a participatory action research methodology that allows participants to leverage the creative medium of photography to capture their 'lived experience'—among Syrian refugees living in the Bekaa Valley of Lebanon. This project proved a powerful tool for empowerment, raising awareness and promoting social change. Throughout the Photovoice process, researchers in conjunction with participants will discuss how to share the photographs and stories with policy makers, donors, and community leaders to help create change within their community. The project secured two Healey grants at UMB, resulted in a public art exhibit in New York City, a peer-reviewed journal article, and resulted in the awarding of the N. Joseph Cayer Public Administration Best Student Paper Award from the Western Social Science Association for three GISD PhD students: Matthew McClellan, Shahrzad Sajadi, and Katherine Aronson.
Bangladesh: Mapping the Situation and Strategic Planning for the Inclusion of Individuals with Autism and Neurodevelopmental Disabilities
Dr. Valerie L. Karr and a team of researchers at the School for Global Inclusion and Social Development and the Institute for Community Inclusion teamed up to assist the Government of Bangladesh in analyzing the situation of individuals with autism and neurodevelopmental disabilities and to develop a strategic plan of action for meeting the needs of this population. This work was aligned with the tenets of the Convention on the Rights of Persons with Disabilities and provided a blueprint for an inter-ministerial collaboration across sectors of the government and civil society.
Bangladesh: Training Parents of Children on the Autism Spectrum
Dr. Valerie L. Karr and SGISD PhD students traveled to Dhaka, Bangladesh in 2015. They met with government officials and worked on a study about supporting parents of children on the autism spectrum. Dr. Karr and PhD students Callie Brusegaard and Ashley van Edema created an online training program for parents of children with autism and other neurodevelopmental disabilities in Bangladesh in collaboration with the global health research institute icddr,b. The thought process behind the project began with the lack of educational opportunities for children with autism in rural Bangladesh. However, in Dhaka there are parents of children with autism who have high education levels and whose children are educated in special schools. These parents have been trained as master trainers in the online program. Sixteen master trainers went out into rural areas and trained other parents on how to work with their children with autism in their own home. The skills the trainers focused on were social communication, routines, structure, daily living activities, sensory regulation, addressing problem behaviors, and community outings.
Global: Data-based Decision-Making to Meet the Needs of Children on the Move
Dr. Valerie L. Karr, an associate professor at SGISD, and PhD students Ashley van Edema and Shymaa Allam are collaborating with AidData at the College of William & Mary on a two-year grant from the Oak Foundation, a Children on the Move Fund of the Tides Foundation. Policymakers need to access and use timely, comprehensive, and disaggregated data to ensure that assistance can effectively reach children on the move, a group that includes refugee, displaced, and trafficked children. Helping these children requires knowing where they are, what they need, and what resources are currently reaching them. Yet the data currently available are not sufficient to meet even these minimum standards.
Over the academic year of 2015-2016, research found that only 2% of the active World Bank portfolio were inclusive of people with disabilities and only 11% of DFID's portfolio was inclusive. We disseminated our findings through: in-house briefings to both World Bank and DFID, an academic conference at the International Centre for Evidence in Disability, hosting of a side session at the Ninth Conference of States Parties for the CRPD with an audience of international human rights advocates, UN actors, and donors, one blog, and two peer-reviewed journal articles.
Ensuring No One Left Behind: Tracking Disability in Inclusive Development
Dr. Valerie Karr and four SGISD PhD students piloted a new methodology to track funding towards people with disabilities within development partner portfolios. In the Sustainable Development Goals (SDGs) era of financing for development, the international community is placing substantial emphasis on the mantra 'leave no one behind.' To meet this commitment, an improved ability to assess disability inclusive development efforts of development agencies is required. This study piloted a methodology to monitor the inclusion of people with disabilities in development efforts of the World Bank and aligns findings against progress towards the SDGs by asking two research questions: 1) Are active World Bank projects inclusive of persons with disabilities (PWDs)? and 2) What areas of development and which SDGs do disability-inclusive projects focus on? While disability inclusive projects make up only a small percentage of the overall active World Bank portfolio (2.0%), preliminary analysis indicates an investment focus in several areas, such as social protection systems and measures, technical assistance and partnerships, education, health, and affordable housing.
Photo by The Advocacy Project. Creative Commons. All rights reserved.
---
Human Rights at UMass Boston
100 Morrissey Blvd.
Boston
,
MA
02125