Human Rights Education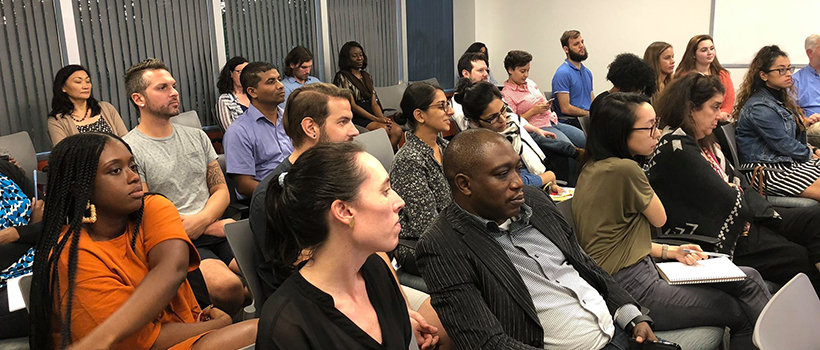 Human rights education is an important part of many of the UMass Boston human rights projects. These range from developing curriculum for human rights education, engaging local communities in human rights learning, guest speaking on human rights at venues throughout the Boston area, conducting research on human rights education and advocating for human rights education at all levels from K-12 through undergraduate and graduate programs. In short, students and faculty are involved in many projects on human rights education.
Developing Critical Awareness through Jewish-Palestinian Educational Initiatives
Assistant Professor Karen Ross is engaged in ongoing work in Israel to explore the role that Jewish-Palestinian encounters and other binational initiatives can play in helping young people develop a critical awareness of social injustices in Israeli society, and motivating continuing work that will help promote equality for marginalized groups. Her recently published book, Youth Encounter Programs in Israel: Pedagogy, Identity, and Social Change, explores the way that participation in such programs shape the conflict narratives of alumni and their ongoing participation in social change initiatives. Professor Ross has also published articles exploring the significance of pedagogical approach for developing a motivation to correct injustice, and on the way that opportunities for implementing such initiatives are shaped by the socio-political context. She is currently engaged in a project exploring the tensions between being a rights-promoting organization with a defined ideology, and an educational organization with a mission of being open to all perspectives among its participants.
Universal Human Rights Education as a Global Goal
PhD student Konstantinos Koutsioumpas and Associate Professor Gillian MacNaughton carried out a project to collect and synthesize the social science evidence to support their argument for a global goal on universal human rights education. This research was published as "Universal Human Rights Education for the Post-2015 Development Agenda," in Joseph Zajda and Sev Ozdowski (eds), Globalisation, Human Rights Education and Reforms, Springer Academic Publishers, 15-33 (2017). Professor MacNaughton also made the legal argument for a Sustainable Development Goal on universal human rights education in "Human Rights Education for All: A Proposal for the Post-2015 International Development Agenda," Washington International Law Journal 24(3): 537-569 (2015).
Teaching Human Rights
There is a strong interest in teaching human rights at UMass Boston, and more than twenty faculty members teach human rights courses. We also offer an undergraduate minor in human rights, a post-BA certificate in human rights and both an MA and PhD in Global Inclusion and Social Development with a concentration in human rights. In line with this interest in human rights education, currently, the UMass Boston Human Rights Working Group, composed of UMass Boston faculty teaching in the human rights programs, are writing a volume of essays for teaching human rights at the university level. The book Human Rights: Transdisciplinary Approaches is co-edited by Professor Elora Chowdhury and Professor Rajini Srikanth and will be published by Routledge.
Associate Professor Gillian MacNaughton and Diane F. Frey (SFSU and Harvard) have also focused on human rights education in an article for Radical Teacher, "Teaching the Transformative Agenda of the Universal Declaration of Human Rights" published in the 2015 special issue on teaching human rights.
Boston Human Rights City Initiative
The Boston Human Rights City Initiative is an educational effort, involving students, faculty and civil society organizations, to bring about a culture of human rights in the City of Boston. The project aims to promote implementation of the Boston Human Rights City resolution adopted by the Boston City Council on April 13, 2011. The resolution proclaims Boston a "Human Rights City," and articulates a vision for Boston to become a model for cities around the world to witness practical ways that the international human rights framework, when widely known as a way of life, can influence meaningful, positive economic and social change.
Photo by David Temelini. All rights reserved.
Human Rights at UMass Boston
100 Morrissey Blvd.
Boston
,
MA
02125