Sustainable Development Goals
Human Rights and the Sustainable Development Goals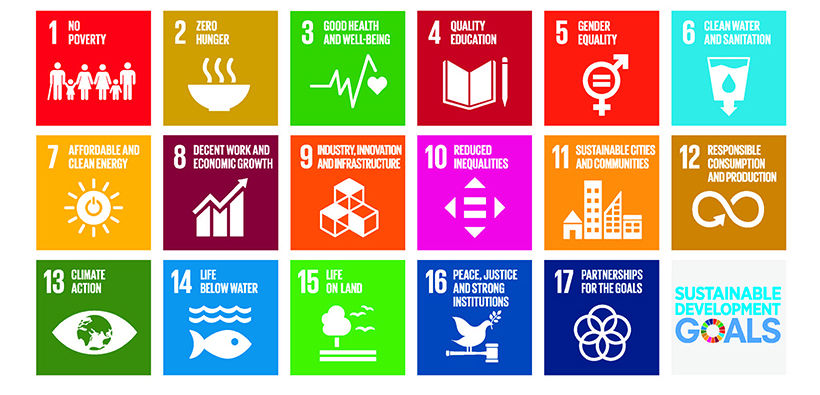 The UN General Assembly adopted the resolution Transforming Our World: The 2030 Agenda for Sustainable Development on September 25, 2015 at the United Nations Summit in New York, providing "a plan of action for people, planet and prosperity" (UN Doc. A/RES/70/1). The 2030 Agenda sets out 17 Sustainable Development Goals and 169 targets that address the three dimensions of sustainable development: economic, social and environmental. Notably, the resolution states that the goals and targets "seek to realize the human rights of all and to achieve gender equality and the empowerment of all women and girls." Students and faculty at UMass Boston are working on several projects that link the Sustainable Development Goals (SDGs) with human rights.
Disability-Inclusive Development
Assistant Professor Valerie L. Karr and her transdisciplinary team – graduate students Ashley Van Edema, Krista Geden, Jim Murphy, and Uchenna Nwangwu – recently worked on a year-long research project that examined U.S. foreign policy and aid in the area of disability-inclusive development, with a focus on four agencies: the Millennium Challenge Corporation, USAID, the State Department, and the Peace Corps. The team assessed the extent to which U.S. foreign policy and aid embody disability-inclusive development, implications for policy, impact of organizational change, field realities, missed opportunities, and areas for improvement. Current research and field work strongly indicate that development assistance is relevant in pushing the UN's 2030 Agenda forward, and that the United States cannot afford to conduct business as usual. The global community has embraced the SDGs, and all hands are on deck. But are the key global players ready to ensure that no one is left behind?
The Impact of SDG target 3.8 – Achieve Universal Health Coverage – on Realizing the Right to Health in Kenya
PhD student Esther Kamau is examining the process through which SDG target 3.8 – achieve universal health coverage – is translated into national and county planning processes and its impact on the realization of the constitutional right to health in Kenya. Her study focuses on the key issue of national ownership of development policy in the context of the global 2030 Agenda that is supported by both external funders and monitors. It considers whether Kenya will ignore locally-identified priorities and promote global donor-driven health strategies, knowing that without ownership, it also risks sustainability.
Universal Human Rights Education in the 2030 Agenda
PhD student Konstantinos Koutsioumpas and Assistant Professor Gillian MacNaughton published a chapter that presents the social science evidence on the positive and human rights enhancing impact of human rights education in the school curriculum. The aim was to support the inclusion of a goal or target on this topic in the SDG framework. The chapter is titled "Universal Human Rights Education for the Post-2015 Development Agenda," in Joseph Zajda and Sev Ozdowski (eds), Globalisation, Human Rights Education and Reforms, Springer Academic Publishers, 15-33 (2017). Professor MacNaughton also presented the legal basis for human rights education to be included in the SDG framework in "Human Rights Education for All: A Proposal for the Post-2015 International Development Agenda," 24(3) Washington International Law Journal 24(3) 537-569.
SDG 10 – Reduce Inequality Within and Among Countries
Assistant Professor Gillian MacNaughton has also worked for several years on economic inequality and human rights, and has several publications in this area. See, for example, the chapter "Beyond a Minimum Threshold: The Right to Social Equality," in Lanse Minkler (ed), The State of Economic and Social Human Rights: A Global Overview, published by Cambridge University Press (2013) and "Untangling Equality and Nondiscrimination to Promote the Right to Health Care for All," Health and Human Rights Journal 11(2): 47-63 (2009).
Most recently, she completed a project examining SDG 10 – Reduce inequality within and among countries – from a human rights perspective, which was published in an article "Vertical Inequalities: are the SDGs and human rights up to the challenges?" in The International Journal of Human Rights, Special Issue on Human Rights and the SDGs, in September 2017.
Panel on Human Rights and the Sustainable Development Goals – December 13, 2017
On December 13, 2017, the Human Rights Research and Practice Group held a panel on "Human Rights and the Sustainable Development Goals," featuring Professor MacNaughton and three other authors of articles in the Special Issue of The International Journal of Human Rights, Professor Audrey Chapman (UConn), Dr. Carmel Williams (Essex and Harvard) and Diane F. Frey (SFSU and Harvard), and co-hosts PhD students Esther Kamau and Michael Scanlon. The panel highlighted many of the intersections, synchronicities and inconsistencies between the SDGs and human rights, addressing in particular SDG 3 on health, SDG 8 on decent work, SGD 10 on inequalities, and accountability and big data. Learn more here.
The Contradictions in SDG 8 – Full Employment and Decent Work for All
Assistant Professor Gillian MacNaughton has also collaborated with Diane F. Frey (SFSU and Harvard) on two articles critiquing SDG 8 on full employment and decent work through a human rights lens: "A Human Rights Lens on Full Employment and Decent Work in the 2030 Sustainable Development Agenda," Journal of Workplace Rights 6(2): 1-13 (2016) and "Decent Work, Human Rights and the Sustainable Development Goals," Georgetown Journal of International Law 47: 607-663 (2016). They also published a chapter "Full employment and decent work in the post-2015 development agenda" in N. Shawki (ed), International Norms, Normative Change, and the UN Sustainable Development Goals (pp. 185-199). Plymouth, UK: Rowman & Littlefield Publishers, explaining the history of SDG 8 and its impact on the final configuration of the goal and its targets.
Human Rights at UMass Boston
100 Morrissey Blvd.
Boston
,
MA
02125