Graduate Teaching Program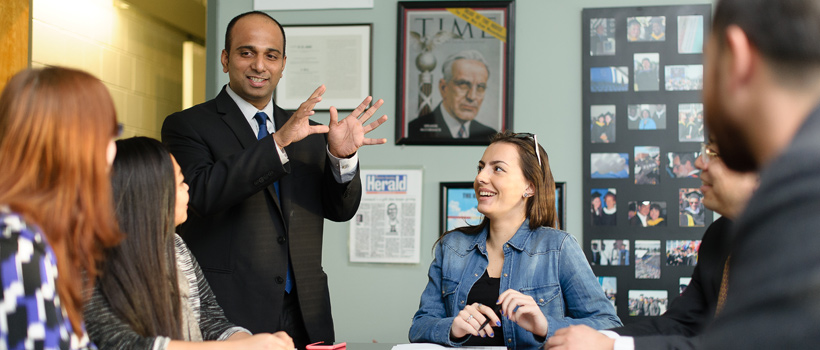 At the University of Massachusetts Boston teaching is one of three pillars of faculty excellence, along with research and service. The Graduate Teaching Program (GTP) offers graduate students an opportunity to learn about teaching from the university's many expert instructors and to develop their own skills and reflective capacities in ways that are useful in both academic and non-academic settings. Students who complete the program will receive a notation on their transcript—a significant form of documentation that can be referenced on résumés, graduate school and job applications.
There is no application for the GTP. Students already enrolled in graduate programs that include teaching assistantships and teaching seminars can simply register.
Please note that the GTP does not arrange teaching opportunities or teaching seminars. Teaching assistantships, when available, are based in the home department. The GTP is designed to supplement and recognize the experience and preparation of teaching assistants without getting in the way of one's degree progress. (Visit the Registration page.)
Graduate Teaching Program Requirements
Attend one Fall Graduate Orientation
Work as TA or Instructor of Record

GTP Level 1: Teach as a TA for two semesters, in person or online
GTP Level 2: Teach as an instructor of record for two semesters or as an instructor of record for one semester and TA for one semester at UMass Boston

Successfully complete a one-semester teaching seminar. (CLICK HERE FOR A LIST OF SEMINARS)
Attend three Center for Innovative Teaching, e-Learning, OFD, department-level teaching forums/workshops, or GTP-approved LinkedIn Learning webinars.
Attend two sessions at the annual Conference on Teaching, Learning, and Technology, or attend two sessions at the annual Teaching Symposium, or take a self-paced, online training course in Blackboard. (Send your request for this course to: learningdesign@umb.edu. Print the certificate of completion issued by elearning after you've taken the course and use as your criteria completion form.)
Write a reflective teaching statement of approximately 750-1500 words.
​​Documenting Your Progress
When you sign up for the GTP we will provide you with the forms you need to have signed by the faculty or staff facilitator of each of the above requirements. It will be your responsibility to keep these records until you are ready to apply for confirmation of program completion. We recommend scanning signed forms as well as saving the originals.
Forms are also available for you to download and/or print in MS Word format.
Your teaching statement should be written at the end of the process and submitted to your designated teaching statement advisor for approval. Once it is approved, you can submit all your materials for review and certification of program completion. For details on preparing your statement, carefully read the Reflective Teaching Statement Guidelines and FAQs.
Please note that we cannot retroactively grant credit for events and workshops attended prior to registering for the GTP.
Transcript Notation
Each participant who completes the Graduate Teaching Program will receive a notation on their transcript.