Scholarly Writing Resources
Scholarly Writing Resources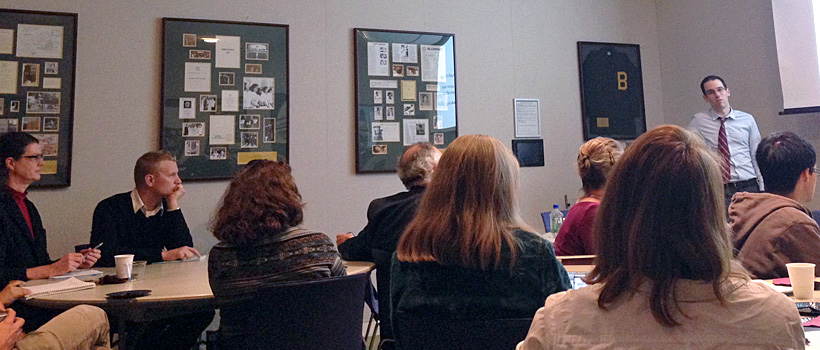 OFD collaborates with Brian Halley, Editor, University of Massachusetts Press, to offer workshops on publishing topics. Each fall semester we host the Publishing Advice Forum.
Copy Editing
For a small fee, select UMass Boston English MA students offer copy editing services.
Project Editors and Writing Coaches
OFD provides a list of editors, but does not endorse any particular project editors or writing coaches. We recommend that you read Tips for Selecting an Editor for advice on selecting an editor.
Taryn Aldrich
Taryn Aldrich is a professional editor who offers copy editing services and writing coaching to graduate students and academic faculty, many of whom are non-native English speakers. Her editing work spans a variety of disciplines, including STEM fields. She focuses on editing scholarly manuscripts and dissertations prior to publication. She also works on grant and research proposals, CVs and job applications, and similar materials. She holds an MA in Professional Writing in addition to undergraduate and graduate degrees in the humanities and social sciences. She previously managed a university writing center and worked in educational publishing. Her clients' articles have been published in a variety of top-tier journals.
Allison Goldstein
Allison Goldstein is a freelance writer and editor with a background in academic publishing. As a freelancer, she has worked with several doctoral students on their dissertations, and is a regular editing consultant for the University of Michigan School of Social Work, where she works with faculty to prepare journal articles, book chapters, and various other materials for publication.
Amy Hoffman
Amy Hoffman is a UMass Press author. She has published two books with university presses and has a third coming out in the spring. She can edit articles or manuscripts in the humanities and/or business articles.
Molly Mullin
With a BA in history from Wellesley, a PhD in anthropology from Duke, and training in manuscript editing from the University of Chicago's Graham School, Molly Mullin provides a wide range of personalized editorial services, including developmental plans for book manuscripts and developmental and line editing of book manuscripts and journal articles. She is the author of a monograph published by Duke University Press and has helped authors publish their work with many leading journals and scholarly presses.
Susan Schmidt
Susan Schmidt has a dual background in science and humanities with a doctorate in American literature, Masters in environmental sciences and British lit; and postdoc study in bioethics, conflict resolution, and botany. She is fluent in French and German. Susan is a developmental editor for Polish to Publish, where she helps authors revise book manuscripts for publication. In structural critique, she can suggest how to shape, focus, fine-tune narrative voice, tone and trajectory. She also can serve as a copyeditor and proofreader for grammar, spelling, punctuation, syntax, structure, word choice, verb agreement, tense and voice (active versus passive). She works with all genres– popular and scholarly. She can mark in a variety of styles including Chicago, MLA, APA, CSE, or hybrid.
Susan Weiner Ph.D.
Susan Weiner is a development editor who works with faculty in the humanities and social sciences as they prepare manuscripts for publication in journals and with university presses, apply for grants, and refine conference presentations.
"Development editing," she states, "is a collaborative process, an intellectual conversation that brings clarity to your argument and helps to integrate the theoretical framework throughout your manuscript."
Getting Listed as a Project Editor
Editors who wish to have their information included on this page should email: faculty.development@umb.edu and must include the names, email addresses, and telephone numbers of three faculty clients (current or former) who are willing to provide a reference. Editors who do not provide a minimum of three faculty references cannot be added to the list.