Diving Research & Safety Program
Diving Research & Safety Program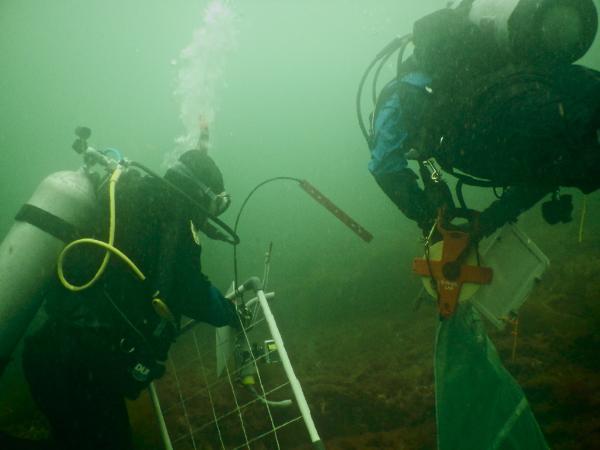 The UMass Boston Scientific Diving program serves researchers in all departments who use SCUBA to conduct part of their research program. Individuals may become UMass Boston scientific divers by taking either USEA 106 or receiving equivalent training (e.g., AAUS) from another institution.
Our mission is to ensure that sanctioned research diving conducted by UMB is done as safely as possible. We want UMB divers to get solid data and work as safe integrated research teams adhering to best practices.
Diving activity at UMass Boston is regulated by our Dive Safety Board composed of a majority of active UMass Boston divers The DSB works with a university Dive Safety Officer to make sure all research is in compliance with our Dive Safety Manual and best practices for research diving.
For more information about research diving at UMB, please contact our DSO, Ted Maney or the Chair of our Dive Safety Board, Jarrett Byrnes.
Manual and Forms for New Activities:
UMB Dive History and Authorization Form
Medical Exam Overview for Physician
Guidelines for Scientific Diving and Covid-19
UMB Dive Safety Manual MEDICAL STANDARDS
MEDICAL EVALUATION OF FITNESS FOR SCUBA DIVING REPORT RELEASE FORM
UMB FIELDWORK AND BOATING: ASSUMPTION OF RISK, WAIVER AND RELEASE FORM
UMB DIVING: ASSUMPTION OF RISK, WAIVER AND RELEASE
Daily forms for active divers:
UMB Diving Research Project Planner 2022
Web forms to maintain diver information:
UMB Diver Emergency Contact Info form
UMB Diver Verification of Training form
UMB Diver Accounting form
Training
USEA 104 - Open Water SCUBA
USEA 106 - Underwater Research Methods Using SCUBA
Personnel
Ted Maney, Dive Safety Officer
Jarrett Byrnes, Department of Biology, Chair Dive Safety Board
Bryan Legare, School for the Environment, Dive Safety Board Member