Student Testimonials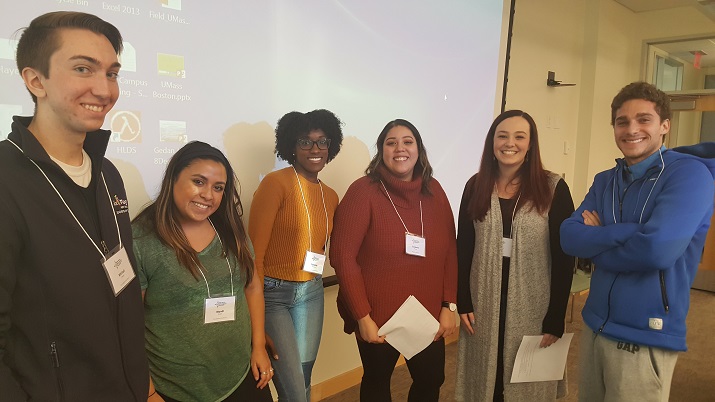 Office of Student Leadership and Community Engagement
Program testimonials
In reference to our GROW Peer Facilitators: "You shared so much with the students about meaningful engagement, social justice, and community building that is essential to student learning...The students were energized by your presentations, and you were all a powerful source of inspiration for them."
- Associate Professor Amy Den Ouden
"BVS is the perfect medium to expand our knowledge on a specific social justice issue. My week in Pennsylvania gave me a first hand experience of one community's public health concerns and witness the power of service in transforming thousands of lives across the world. BVS was transformative for me because it allowed me to stop and analyze existing health services that are taken for granted. It also taught me to imagine better the transformational power of service."
--Niti P., 2017 - 2018 Beacon Voyages for Service participant
"For the past four years, the University of Massachusetts Boston has brought some of the most hardworking, thoughtful, kind, passionate, and service driven volunteers to YSOP through their alternative break program. The great thing about UMass Boston volunteers is that they reliably show up, work diligently, ask good questions, step outside their comfort zones, and give all that they can to us and to our partners.
Service learning programs are about more than service provided; they are about putting that service in the context of larger issues such as homelessness and food insecurity. Each reflection activity YSOP held with UMass Boston students yielded in depth discussion of critical connections between systemic issues of poverty and homelessness and the work students performed each day. It has always been clear that UMass Boston students come to our programs equipped with knowledge and have a desire to learn more."
-- Cassie K., Program Coordinator, YSOP; Danielle S., Program Director, YSOP
"This program's commitment to being student-led has built incredible confidence and leadership skills in myself and my peers. I have learned to trust myself and my fellow BVS-ers, and I have watched us create together an incredible force for good, one which I believe can and should be shared."
--Madison H., 2017-2018 Beacon Voyages for Service Education Coordinator
"FLI [First-Year Leadership Institute] is one of the many gateways to student success in leadership and community involvement at UMass Boston. I would encourage all students to apply to this program. It truly transforms a student's UMB experience and makes them a better professional, but more so, a better individual and a leader for their community."
--Sara Tariq, Student Trustee 2018 - 2019
"FLI [First-Year Leadership Institute] gave me confidence in myself as a leader at a new university. It also gave us countless role models (all of the mentors and leaders of the program) that demonstrated that we, as students, could make a real difference at the university."
--Samantha Zeno, USG Vice President 2018 - 2019