The "EXTERNAL SENDER" Label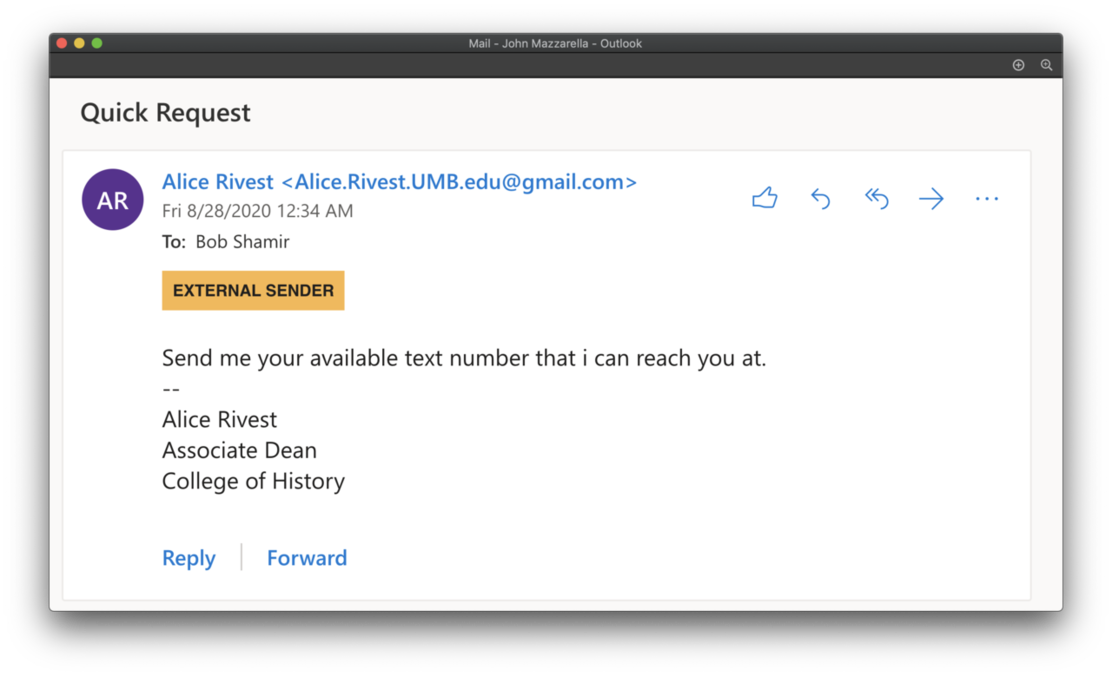 IT has instituted an "EXTERNAL SENDER" label, a notice to help you recognize when an email is coming from an outside source. This is a standard security measure in many public and private organizations, to help you more readily identify emails that may be pretending to come from someone at UMass Boston, but are really coming from an email address outside the University's email system. See an example of this to the right.
"EXTERNAL SENDER" is not a smoking gun!
This does not mean that all emails with the "EXTERNAL SENDER" tag are malicious. For example, if you signed up for a newsletter, that would come from a non-@umb.edu email address and would be tagged "EXTERNAL SENDER" even though it wasn't dangerous.
Additionally, it's also not true that all emails without the "EXTERNAL SENDER" label are inherently safe either. For example, an internal UMass Boston sender could have had their account hijacked from a previous attack, and now be trying to phish you. Since this attack would be coming from a real @umb.edu account, it wouldn't trigger this label.
"EXTERNAL SENDER" is one tool in your tool belt.
There are many other technologies and trained IT staff working hard to keep you safe, but you play a big part too! How can you know when a legit-looking email is a scam? Read our Phishing page to learn how to "Educate yourself, Trust your gut, and Verify".
Still not sure if an email is phishing or legit? Forward it to

abuse@umb.edu

and ask for help.