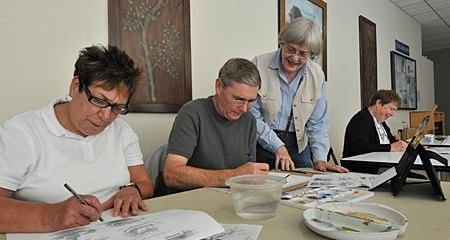 About OLLI
The Osher Lifelong Learning Institute (OLLI) at UMass Boston is a membership-based community of mature adults who enjoy learning and want to spend time with like-minded people.
OLLI's mission is to foster accessible lifelong learning, individual growth, and social connection for mature learners age 50+ by providing stimulating opportunities to enrich the intellectual, social, and cultural lives of members, regardless of educational background.
Through a modestly priced membership, OLLI provides non-credit courses, special lectures, social events, theatre outings, and field trips in the U.S. and abroad.
No specific background is required to join, just an interest in academic learning, the desire to participate actively with your peers, and an open mind.
OLLI is funded in part by the Bernard Osher Foundation, which supports educational programs, arts, and integrative medicine centers. OLLI at UMass Boston is one of 125 institutes in all 50 states in the U.S. funded by the Foundation.
"It's the belief of the Bernard Osher Foundation that people are living longer and this longer life should be coupled with increased learning. The more engaged seasoned adults are, the more constructive citizens they will be," said Mary Bitterman, President of the Foundation.

Some facts about OLLI at UMass Boston
We are:
the only lifelong learning program in the nation that is part of a graduate school in policy and global studies and one of only three programs in the nation that is housed in the Gerontology Department. The majority of lifelong learning programs in the U.S. are sponsored by university's Continuing Education Departments. With this uniqueness, OLLI is able to tap into the expertise and resources provided by McCormack Graduate School and you will continue to be encouraged by faculty, staff, and graduate students to participate in over 130 non-credit courses, 80 lectures, and many activities per year.
the first lifelong learning program in the U.S. that created an active LGBT group called Stonewall at OLLI UMass Boston
the only lifelong learning programs in the nation that provides a free access to Mango Language Program allowing members to learn over 50 languages by using computers, laptops, smart phones, and tablet devices
one of the selected OLLIs out of the 125 in the country that has received a second $1 million endowment from the Osher Foundation
one of the most diverse programs in terms of the ethnicity with 9% non-white members
Friends of OLLI
A contribution of any size is a gift of knowledge and makes a big difference in the lives of the program and our members.

Read More
---