Room Furniture Details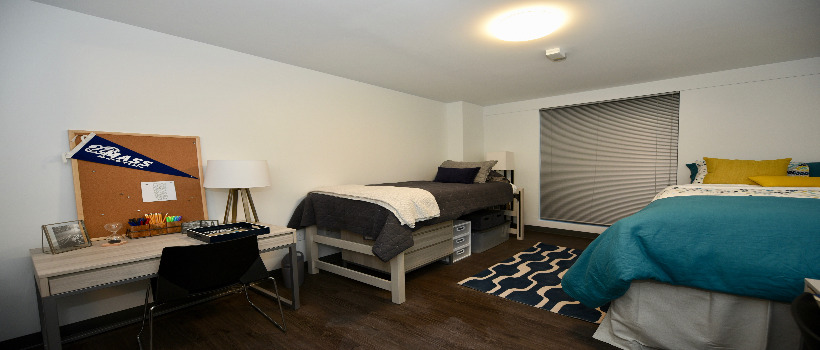 We are excited for you to make your room your home away from home! The below information includes measurements to help you plan for decorations and storage.
All students will have a bed, desk and chair, closet and set of dresser drawers.
Bed Size
All beds are Twin XL (please be sure to purchase Twin XL sheets for your bed).
Bed height can be adjusted. Beds are also able to be bunked if desired (as available). Please submit a maintenance work order to have your bed adjusted after move in.
At highest setting, the bed is 40.9 inches from the floor.
The mattress is 8 1/2 inches thick.
Storage space under bed when at highest setting:

Width - 37.50 inches
Length - 81.50 inches
Height - 30.50 inches
Desk and Chair
Each student will have a desk and desk chair in their room.
Desk measurements:

Width - 23.75 inches
Length - 39.50 inches
Height (space under desk) - 23 inches

Desk Chair measurements:

From seat to floor - 19 inches

Please note: Students are not permitted to bring their own desk chairs or gaming chairs as external furniture is not permitted in the building.
Closet
Closets are available in the rooms.
The closets do not have doors. Residents are welcome to purchase tension rods and a curtain to add your own personal touch to the space.

Width - 23.75 inches
Length - 31.50 inches
Height - 89.50 inches
Distance from top of closet to wire shelf - 24 inches
Dresser Drawers
Students will each either have a three-drawer dresser or 2 two-drawer dressers per person for storage in their room
Dressers can be stacked

Width - 23.75 inches
Length - 28.50 inches
Height - 28.94 inches
Windows
All rooms have windows with blinds.
Window measurements for all rooms:

Length - 25.5 inches
Height - 85.5 inches

In the Quad rooms, there is also a corner window that has slightly different measurements:

Length - 69.875 inches
Height - 83.375 inches