Book Group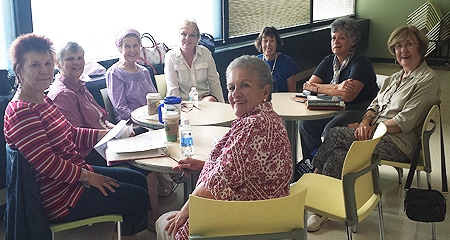 OLLI has a book group that connects members who love to read books and meeting together to share impressions about them. Meetings take place monthly on the 2nd Thursday (except July and August), and the group will usually be found from 10 am to noon in the space available near the OLLI office. Eileen Courtney handles administrative details and communicating with group members.
The books members read are readily available from local libraries or in soft copy at the bookstore or on the internet. A mix of fiction and non-fiction, the titles are selected by the group usually several months in advance and the member who suggests the book becomes the discussion leader. At meetings members share their different perceptions and discussions can become lively. It is generally agreed that much new learning takes place in this book group.
Some of the books read recently include:
The Art Forger

by Barbara Shapiro
My Beloved World

by Sonia Sotomayer
Blink

by Malcolm Gladwell
Death

at LaFenice by Donna Leon
The Hare with Amber Eyes

by Edmund de Waal
For more information about joining, contact Phyllis Jennings phyljen67@aol.com or Marilyn McElaney mmcelaney@comcast.net.
Special Interest Groups List
Each group is different depending on its focus, and all provide interesting lifelong learning opportunities as well as fun social experiences. See them all.
Read More
Friends of OLLI
A contribution of any size is a gift of knowledge and makes a big difference in the lives of the program and our members.
Read More
---