Stonewall at OLLI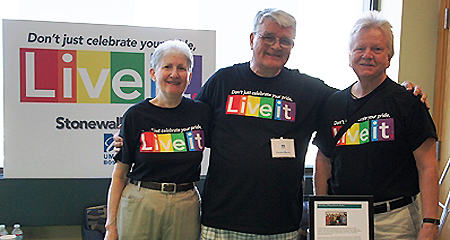 Stonewall at OLLI is a community of older LGBTQ learners at UMass Boston's Osher Lifelong Learning Institute (OLLI), committed to providing a safe, friendly and welcoming place for people of all sexual orientations, gender identifications and expressions. We promote transparency, equality and respect for all people and strive to add value to the greater OLLI organization.
We wish to share educational, social and cultural experiences together and with the larger UMass Boston community. The UMass Boston OLLI was the first of the 124 nationwide OLLIs to create an LGBTQ SIG. We are fully integrated into OLLI as members of all committees and as course facilitators and brown bag presenters. Courses and brown bag presentations by our members include LGBTQ and non-LGBTQ subjects.
Our monthly meetings offer our members a spirit of camaraderie within OLLI as well as a way to share suggestions for activities outside of OLLI. Sometimes we invite outside speakers to discuss topics of interest. Our members attend OLLI theater outings and travel on OLLI-organized domestic and international trips. Outside of OLLI our members share meals at state-sponsored senior LGBTQ meal sites around the Boston area. We also network at meal sites and other venues to attract more LGBTQ seniors to OLLI.
For more information about Stonewall at OLLI, call the OLLI office at 617.287.7312 or email ollireg@gmail.com and ask how to be connected to a member of Stonewall at OLLI. As a member you will receive monthly meeting notices.
Special Interest Groups List
Each group is different depending on its focus, and all provide interesting lifelong learning opportunities as well as fun social experiences. See them all.
Read More
Friends of OLLI
A contribution of any size is a gift of knowledge and makes a big difference in the lives of the program and our members.
Read More
---
Osher Lifelong Learning Institute
McCormack Hall, 3rd Floor, Room 003
University of Massachusetts Boston
100 Morrissey Blvd.
Boston, MA 02125-3393 USA
617.287.7312
Maps & Directions
Having trouble reading this page?
If you are using a PC, press and hold down the Ctrl key while also pressing=.
If you are using a Mac, the keystroke ⌘+ will enlarge the size of the font.