Ending Exclusion, Advancing Human Rights
In our interconnected world, it is more important than ever for global policy organizations, governments, and communities to apply principles of global inclusion to ensure social development for all, and to help dismantle exclusion and oppression.
Global inclusion practices seek to ensure that everyone can participate in the social, economic, cultural, political, and civil aspects of their communities. Social development is a process of improving human and collective well-being through interventions in social policy, public policy, service delivery, and nonprofit activity at several levels: micro (individuals and families), mezzo (agencies and neighborhoods), and macro (larger communities, governments, and nations).
Graduate Programs
Certificate Programs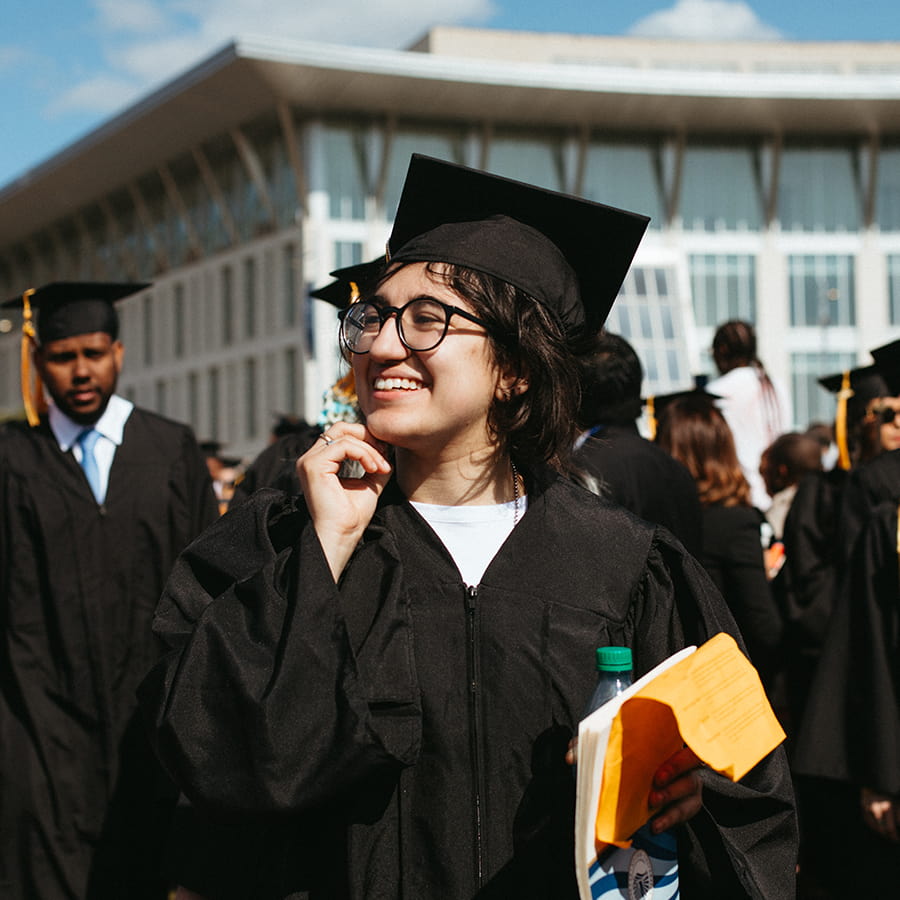 Accelerated Master's Programs (AMP)
Earn a bachelor's degree and a master's degree in Global Inclusion & Social Development or Rehabilitation Counseling.

Coverdell Fellowship
Our Coverdell Fellows Program offers incentives to returned Peace Corps volunteers to apply to programs in our graduate school.

Peace Corps Prep
Our Peace Corps Prep program supports undergraduates across all UMass Boston departments to build skills for international volunteering and car
Why Global Inclusion?
Our Mission

Empowering communities locally, nationally, and internationally to advance wellness, educational access, economic participation, and social opportunities for all people by developing leaders, building knowledge, and demonstrating real-world innovations that embrace inclusion.

To achieve this mission, SGISD faculty, students, and staff make the following commitments:

To undertake work that creates social change and promotes human rights and justice for individuals who are excluded from their community because of their race, ethnicity, gender, disability, sexual orientation, religion, or other factors.
To recognize that this work requires advocating for and defending the rights of all individuals.
To recognize that social change is more effective when it is achieved through partnerships between excluded individuals and experts from various disciplines, all approaching inclusion from unique perspectives. Effective collaboration is based on mutual learning and respect, and requires collegiality and collective intelligence.
To focus the activities of SGISD on empowering individuals to define their own quality of life and realize their full potential.
To ground all the activities of SGISD in transdisciplinary education, training, research, and service. All these elements combine to apply theory and evidence-based research to practice. The knowledge the school produces is translated and disseminated to all communities affected by the issues in question.
Goals & Commitments

As the United States and the world wrestle with the impact of systemic racism and pervasive inequities, we must do our part to ensure we are dismantling, versus perpetuating, this oppression and injustice. We are committed to being anti-racist and justice-oriented as a school and to ensure that we reflect our mission, and are providing students with an experience where they can flourish, develop the tools they need to make an impact, and work toward their goals for change.

SGISD uses a transdisciplinary approach that allows us to acknowledge and examine the intersectional nature of this commitment across different areas of study, populations, communities, and research and practice.

Our goal is for students committed to global inclusion and social development to apply their experiences and knowledge to areas of policy and practice, using an equity- and justice-oriented inclusive lens. Their efforts and leadership will create a more socially cohesive and sustainable society, supporting the dignity, human rights, and responsibilities of all its members.

We are committed to our community, and to developing programs that meet the needs of our students, whom we attract from all over the world, whether they are seeking a graduate degree or a certificate program. We offer a range of options such as a focus on human rights, engagement with our Asian American Studies Program, or our research institutes: the Institute for Community Inclusion and the Institute for New England Native American Studies.

UMass Boston is also proud to be an Asian American and Native American Pacific Islander-Serving Institution (AANAPISI). SGISD's Asian American Studies faculty have a key role in the University's AANAPISI efforts and are national leaders in approaches and practices designed to meet the needs of our Asian American students and communities.
Explore
Contact Us
Carl Sidney
Program Coordinator for the School for Global Inclusion & Social Development
Email Carl Sidney
School for Global Inclusion and Social Development
in the College of Education and Human Development
Phone:(617) 287-3070
Email Global Inclusion