English Language Program Fall & Spring
English Language Program Fall & Spring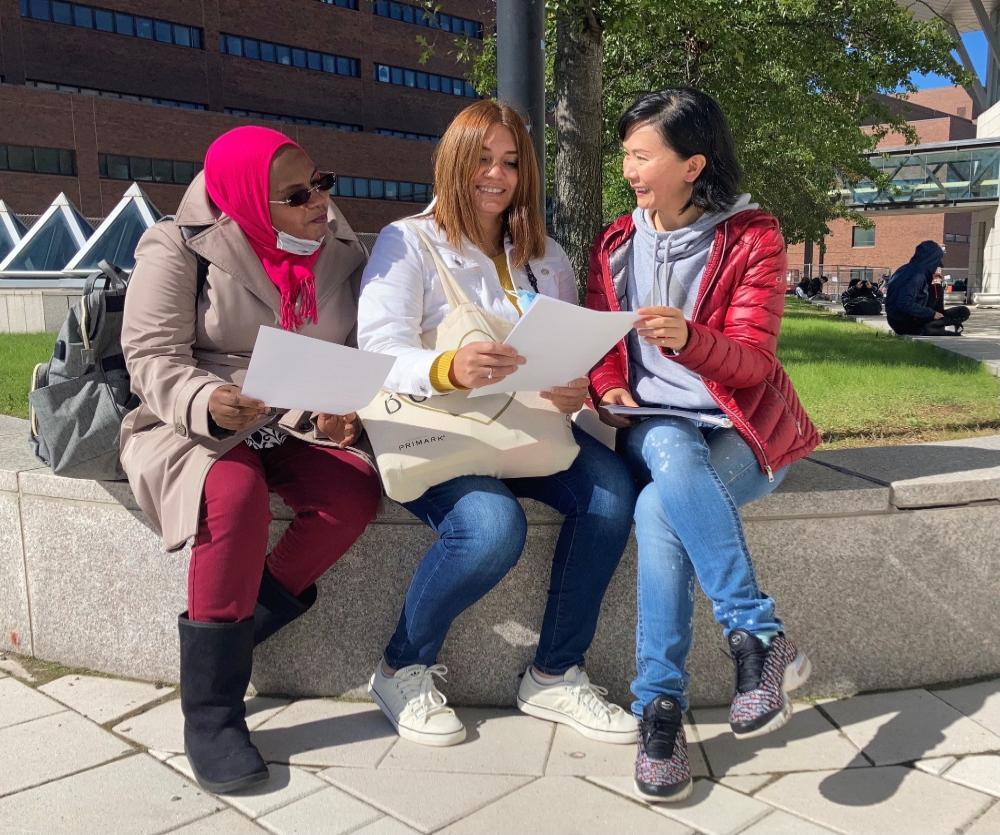 For information on our summer sessions.
Application Deadlines for Fall 2023:
July 7th, 2023 for new international students
August 18th, 2023 for transfer and resident students
The Intensive English Language & University Preparation Program Pathway Program is designed for students who wish to learn English for academic, professional, or personal reasons. This program is recommended for all students (residents and international students) seeking full-time admission into our undergraduate programs at UMass Boston. This pathway program prepares students to deal with the academic demands of undergraduate mainstream courses.
The biggest benefit of joining our program is that students who wish to enroll full-time in UMass Boston and pursue their bachelor's degree with us do not need to take the TOEFL or IELTS exam to be accepted. Instead, through our portfolio recommendation process, the faculty in our program compile the work that degree-seeking students have completed throughout their courses and in conjunction with the ESL Undergraduate Program, students are recommended to go full-time and are placed into appropriate classes for the first semester of their freshman year.
Estimated course time: 15 weeks
Number of hours per week: 19 hours a week (full-time)

*part-time options available for U.S. citizens and residents
Class Size: 20 students max.
Program Dates:
| | | |
| --- | --- | --- |
| Semester | Orientation Date | Semester Dates |
| Spring 2023 | January 17 - January 20 | January 23 - May 10 |
| Fall 2023 | August 28 - September 1 | September 5 - December 13 |
Tuition Prices for Fall and Spring Semesters:
Instructional Hours
Tuition Cost Per Class
Required Funds*
9 Hour Class
$1,894.73
6 Hour Class
$1,263.15
4 Hour Class
$842.12
Full-Time Cost
$4,000
$13,896 USD

for one semester or

$27,793 USD

for one year
* Required funds: In order to secure a student visa, the U.S. government requires that prospective international students show that they have sufficient funds to support the costs of living and studying in the country so students can focus entirely on their academic responsibilities while abroad. UMass Boston specifies that international students must demonstrate the amount of $13,896. Note: This requirement does not apply to remote learning from outside of the U.S.
**Funds are only required for international applicants. U.S. residents and citizens are exempt of this provision.
*** Please know we need to have applications closed 60 days before the start of the semester to:
Process your application.
Complete your Application Interview with program staff
Admit you into the university if accepted.
Start the immigration process (i.e. processing Form I-20).
Allow at least

45 days

to complete immigration requirements: obtain an I-20, make an appointment with the embassy to request your F1 visa, and receive the visa.