Secure Your ZOOM Meeting
Update your Zoom Application to stay up to date with the most recent releases, fixes, and security updates:
The following information will help keep your Zoom classrooms and meetings secure.
Options while scheduling your meeting
Use a random meeting ID : Generate a random meeting ID for your class, so it can't be shared multiple times. Do not use your Personal Meeting ID.
Require a Passcode : Only participants with the correct passcode can join the meeting.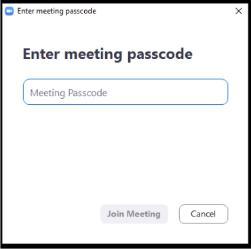 Require Registration: This shows you every email address of everyone who signed up to join your class and can help you evaluate who's attending.
Enable the Waiting Room: Participants can only join the meeting if approved by the host.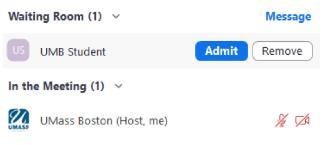 Only Authenticated User Can Join: The best option to avoid Zoom Bombing for your Zoom Class Meetings. This will only allow those with a Zoom account associated with an @umb.edu email address to join your meeting.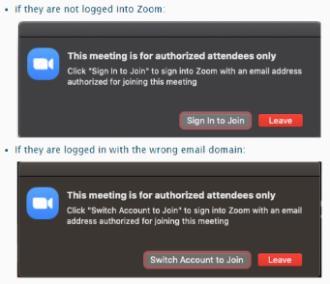 - Please note if you decide to use this option, you will need to inform all of your students that they must obtain and activate their Zoom License and sign into their UMass Boston Zoom account to attend your Zoom Class Meeting. Students can activate/sign in to their own UMass Boston Zoom Licenses here: https://umassboston.zoom.us/
- You can now add an authentication exception if you have an outside guest join your meeting. If you plan to have a guest speaker you can add their name and email as an exception when scheduling your meeting (you can also edit your meeting to add this exception) and they will receive a unique meeting invite link to bypass authentication.
- You can direct your students to the Zoom for Student's page for a "Test Authentication" Zoom meeting so that they can test to make sure that they can join a Zoom meeting requiring authentication.
Options while in your meeting
It is strongly recommended that you do not post your Zoom meeting information on public sites such as Twitter, Facebook, Instagram, ect.
Posting meeting information to public sites opens the door for anyone (including unwanted guests) to join your meeting.
Below is Zoom's recommendation for keeping your meetings secure:
If you would like to make your meeting private:
- Remove or report the public post
- Delete the meeting and create a new one
Enable these security settings:
- Send the new meeting information only to people you know
If you would like to keep your meeting public:
We strongly recommend converting it to a webinar. A webinar will give you control over who participates with video, audio, chat, and screen sharing.