Welcome to the Nursing Department
Our comprehensive approach to education uniquely positions us to meet very real healthcare needs of our city, state, and nation by educating knowledgeable providers of skilled nursing care, analyzing and creating health policy, and increasing the health of diverse urban populations. Our singularity has made us a model for programs nationwide.
Academic Programs
About Our Department
Mission: The Mission of the Department of Nursing is to create an inclusive, student-centered learning environment that fosters innovation in research, scholarship, education, and service and prepares graduates to promote health equity and quality as professionals working in complex systems.
Vision: To be the premier leader in educating innovative nursing professionals committed to advancing health equity and achieving optimal population health in local, global and urban communities by the development and evaluation of health policies.
Values: Integrity, Inclusion, Diversity, Transparency, Transformation, Resilience, Relationships, Accountability, Collaboration, Equity, and Excellence.
As the 9th largest nursing school in the country, we are proud to offer the only publicly supported nursing programs in the greater Boston area to graduate a significant number of racially and ethnically diverse baccalaureate, master's, and doctorally-prepared nurses.
By choosing us, you will benefit first and foremost from studying with our dedicated faculty, who have distinguished themselves as innovators both in teaching and in multidisciplinary research. Their areas of focus include health disparities, cardiovascular health, health policy, cancer, and obesity prevention. Our faculty provides the very best instruction and learning opportunities to prepare you for future career success.
You will also benefit from our affiliations with more than 200 healthcare organizations, through which you can pursue internships and gain essential clinical experience. Our own resources include the Center for Clinical Education and Research, a state-of-the-art facility in which you can learn from simulated clinical experiences.
During your time with us, we will guide you to opportunities for scholarships and financial aid, and give you knowledgeable advising as you prepare for your career. When you complete your studies, you will be part of a group of highly sought-after alumni who assume leadership positions in all the Boston area's world-renowned healthcare facilities.
Integrating science, education, practice, and policy to decrease health disparities in populations: a local and global focus.

The baccalaureate degree program in nursing/master's degree program in nursing/Doctor of Nursing Practice program and/post-graduate APRN certificate program at the University of Massachusetts Boston is accredited by the Commission on Collegiate Nursing Education, 655 K Street NW, Suite 750, Washington, DC 20001, 202-887-6791.
Resources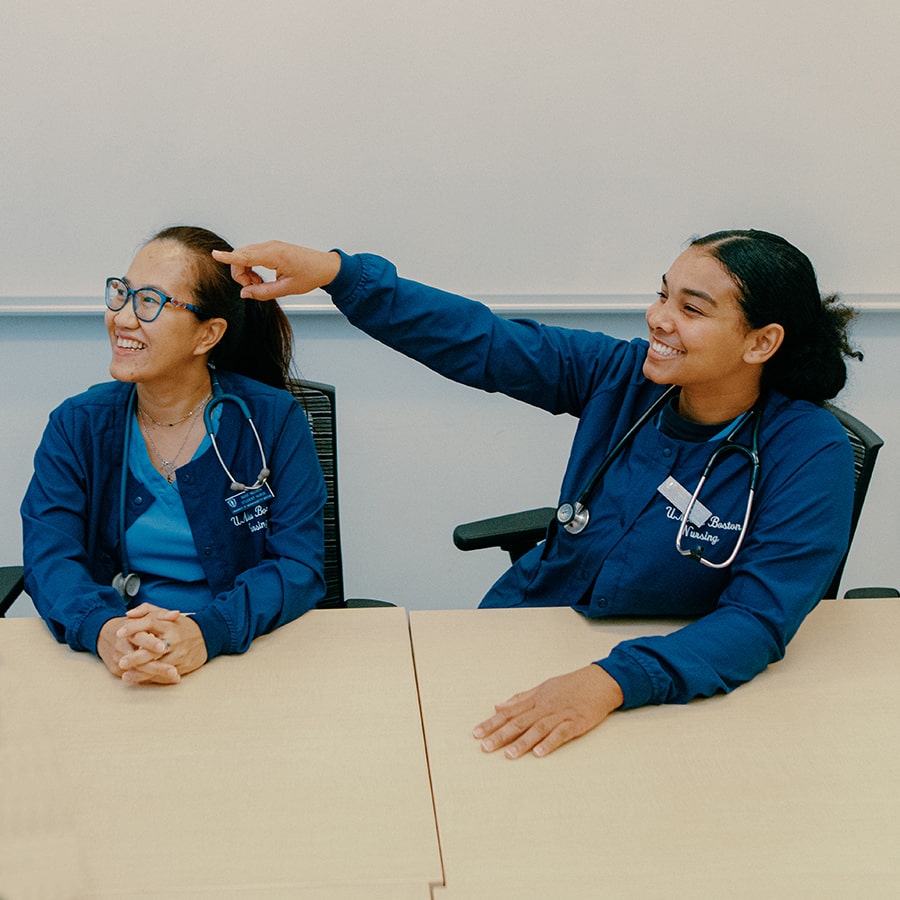 Accelerated Bachelor of Science in Nursing, ABSN
Looking to fast track your nursing degree using your pre-existing bachelor's degree?
Nursing Department
Graduate and Undergraduate Programs
Quinn, 1st Floor, Room 0025
Phone: 617.287.7500
Fax: 617.287.7527
Email Nursing Department