Anthropology Department Student Resources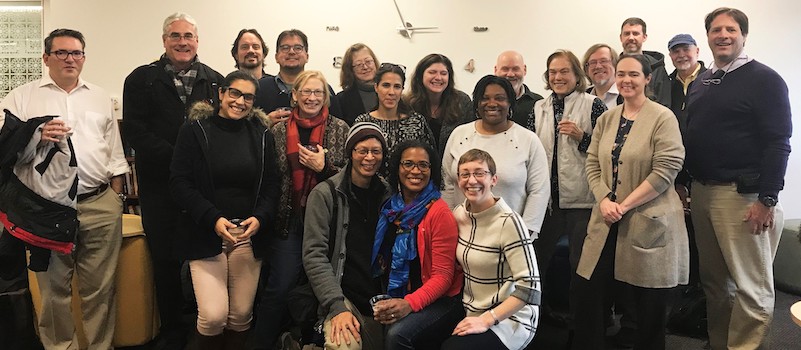 The Anthropology Department at UMass Boston is renowned for providing excellent student resources. From cutting-edge research opportunities, to an engaging curriculum with an emphasis on collaboration and individual pathways, to a diverse profile of advisors and mentors, students are equipped with the tools they need to excel in the field of anthropology and apply its skills and perspectives in other disciplines and settings. Furthermore, UMass Boston's extensive library resources, state-of-the-art archaeological and biocultural laboratories, and access to fieldwork opportunities ensure that students receive a well-rounded education and valuable, real-world skills.
Further Student Resources
Beyond the Classroom
Here is a list of resources available for students to take their anthropological learning outside the classroom.
Anthropology Research Labs
The Department has superb laboratory facilities for archaeology and biological anthropology. Faculty members conduct a wide variety of research projects and encourage student participation in these projects. Many of these offer opportunities for undergraduates to work with graduate student mentors. Click here to learn more about the Archaeology Lab spaces.
Anthropology Field Schools
During the summer months, members of the Anthropology Department and Fiske Center regularly conduct several archaeological field schools.
Dr. Lauren Sullivan conducted a field school in Maya archaeology in Belize for more than 20 years.
Dr. Stephen Mrozowski has run field courses on Shelter Island, New York, and on the Hassanamesit Reservation in Grafton, Massachusetts.
Dr. Stephen Silliman has regularly offered an award-winning field school for 20 years on the Eastern Pequot Reservation in North Stonington, Connecticut.
Fiske Center staff members Dr. David Landon and Dr. Christa Beranek have worked on a multiyear project to uncover the earliest colonial histories of Plymouth, Massachusetts, and more recently, Dr. Beranek taught a field school in Marblehead, Massachusetts.
Please see the project directors for more information on these educational and professional opportunities.
Anthropology Courses
Here you can find a list of all Anthropology undergraduate and graduate courses, both as a complete catalog list and as a term-specific inventory.
Colloquia and Other Special Events
The Department sponsors a number of speakers throughout the year to talk about current research or subjects of interest to anthropologists and the broader university community. Some speakers may be candidates for faculty positions, and in such cases students as well as faculty are invited to evaluate these anthropologists as potential members of our faculty. Speakers in these symposia have included internationally eminent anthropologists. The Department also sponsors speakers jointly with other departments and programs (e.g., Native American and Indigenous Studies; Transnational, Cultural and Community Studies; Department of Conflict Resolution, Human Security, and Global Governance; Consortium on Gender, Security and Human Rights), and routinely collaborates with the Anthropology Club in sponsoring a colloquia and social events.
Lambda Alpha
Lambda Alpha is the national honors organization for anthropology. The Beta of Massachusetts Chapter at UMass Boston was founded in 2006 and includes undergraduate students, graduate students, and faculty members. In order to join our chapter you must be a junior or senior or graduate student with a minimum of twenty hours of Anthropology classes and have a minimum of a 3.0 cumulative overall GPA. The lifetime membership fee is $25.00, and you may list this among you honors/affiliations indefinitely. Members are eligible for several scholarships provided by the national office and may also submit their work to the national Lambda Alpha Journal. Please contact the faculty sponsor (Lauren A. Sullivan) for more information.

Find Us on Social Media
Instagram: UMBArchaeology
X/Twitter: UMBArchaeology
YouTube: Anthropology Department
Facebook: Anthropology Department, Fiske Center, Historical Archaeology Graduate Program
Blogs: Fiske Center

Student-Led Groups
Student Clubs And Events (Anthro Club)
Society of Graduate Archaeologists (Graduates)
The Community Anti-Racist Respect Engagement (CARE) Inclusivity Committee (Graduates)