Student IT Services Toolbox
Student IT Services Toolbox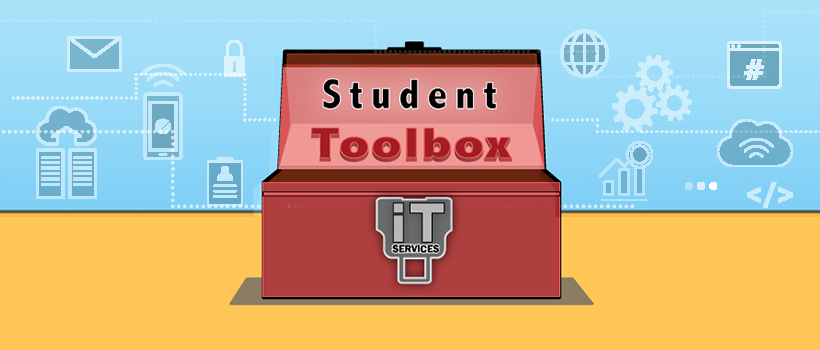 Student success starts with access to the right resources and tools. Connect with key resources that will help you thrive at UMass Boston and beyond. Access to resources begins with your UMass Boston account.

Accounts & Access
About your UMass Boston Account
What is a UMass Boston account?

Your UMass Boston Account is a user ID and password. It allows access to the secure wireless network and other important services at UMass Boston.
Why do I need a UMass Boston account?

Your UMass Boston Account allows you to access email, wifi, the student registration system (WISER), the learning management program (Blackboard), video conferencing tools (Zoom), Healey Library and more.
Keep your account secure!

Keep your password safe. Please ensure that your password is strong by adhering to our provided password guidelines, and remember to reset your password when needed.
MFA
Multifactor authentication (MFA) is required to secure your account. MFA requires you to present a combination of two or more credentials to verify your identity for login. MFA increases security with multiple authentication requirements. Our MFA system requires you to present a combination of two credentials to verify your identity for login.
Microsoft Office 365 Webmail
UMass Boston provides Microsoft Office 365 Webmail to all faculty, staff, and students. You will use your UMass Boston account information to login to your email. Your UMass Boston Email is the official method of communication for the university.

Wifi
The Eduroam Network
The official wireless network at UMass Boston is eduroam. Students, faculty and staff should use the eduroam wireless network for connecting computers, tablets and smartphones.
Why the eduroam Network? Eduroam is a fast, secure, and encrypted network. It provides important safety and security for personal information when browsing the internet, entering passwords, sending email, using Blackboard and more. This broad network has millions of eduroam wireless access points around the globe, it acts as one large, worldwide, wireless hotspot.
How do I access the eduroam network?

Select the "eduroam" network and log in with your full UMass Boston email address and password.

Your Courses
Access Course Information - WISER
WISER is the student information system used by UMass Boston students, staff and faculty to manage courses, grades and student records. Students can use this system to register for courses, view current course schedules and grades.
Access Your Courses - Blackboard
Students can view class materials, contribute to online discussions and submit assignments and complete other related coursework on Blackboard. Most courses at UMass Boston can be accessed online by any student with internet access and a computer capable of running a web browser. All courses offered at UMass Boston use Blackboard, a learning management system (LMS).

Collaboration
Microsoft Office 365
Microsoft Office 365 Webmail, gives you access to the entire Office 365 suite to help manage projects. Access the entire Office 365 suite of programs, Calendar, Word, Excel and online file sharing with OneDrive. Microsoft Teams allows you to meet online in real time, with chat, audio, video, screen sharing and more.
Google Workspace
Google Workspace is a suite of programs that help you easily collaborate with others. It includes Google Drive, Google Docs, Sheets, Jamboard (collaborative whiteboard), Forms, Calendar and more. UMass Boston provides Google Workspace to all faculty, staff, and students. Be sure to use your UMass Boston account information to login.
Zoom
Zoom is a web conferencing application which allows you to meet others online, with video, audio, screensharing, chat and more. UMass Boston provides Zoom access to all faculty, staff and students. Use your UMass Boston account information to login. New users will need to activate their accounts using the same login page.

Computers and Laptops
Purchasing
UMass Boston students can take advantage of discounts on a wide array of products, desktop computers, tablet computers, laptops and more, from Dell.
Borrowing
As long as supplies last, you can borrow a Chromebook from IT Services. Just return it by the end of the semester, or sooner if you no longer use it so we can loan it out to other students in waiting. Return the Chromebook to the Healey Library Circulation desk, 2nd floor.
Computer Labs
Computer labs are available to students who need access to a public computer. Most computers have applications that support video production, audio production, digital photography, graphic design, animation, applications for statistical analysis and more. Computer labs are available on a walk-in basis, while some are reserved for classes.

Printing
WEPA printing kiosks
Print documents using your laptop, lab computer or mobile device using a fleet of 30 WEPA student printing kiosks located around campus and in the residence hall. UMass Boston offers $15 of free print credits to enrolled students per semester. If you run out of free credits, you can pay for prints with BeaconBucks, credit card and other options.

Create & Learn
Software
UMass Boston students can obtain a range of software products for free or at a significant discount. Available software includes Microsoft Windows 10 operating system, Microsoft Office 365, Qualtrics, Mathematica, and more.
MakerSpace
MakerSpace is a space where you can conceptualize and create simple or complex virtual and physical objects. The lab is equipped with 3D printers and scanners, VR, AR and engineering equipment, dedicated desktops and associated software. Staff are available to consult with you about your university-related projects.
WordPress
WordPress is the leading content management system (CMS) powering nearly half of the internet. The UMass Boston Sites Network provides an easy way to get your content online, no matter what type of website you need. Highly customizable, WordPress can be used for many applications, from blogging to online portfolios, as well as full-blown websites.
LinkedIn Learning
LinkedIn Learning is an online platform that offers tutorials and full courses on how to use many popular programs, such as Microsoft Excel, P, building websites and more. Also learn soft skills and boost productivity with your courses and your career. Choose from 16,000+ courses on a wide variety of topics, with dozens added each week.
Mobile App
The new UMass Boston Mobile App is here! Completely redesigned based on student feedback, the app is the fastest way to access some of the most important campuses services.

Residence Hall
Residence Hall Wifi
All residence floors have Wifi! Log into Eduroam, the same Wifi network name you see all over campus.
Res Hall Wifi isn't supported through the main IT Service desk, instead, talk to Res Hall Staff about problems with Wifi in the Res Hall buildings, and they will direct you to how to get help.
Residence Hall Tech Support
24/7 technical support for dorm residents is available from Single Digits at: 855-890-9546
Residence Hall Student Printing
Both Residence Halls have printers available for residents, located on the first floor of each building.

Student Jobs and Internships
UMass Boston offers employment opportunities to students to enhance their academic experience in a supportive setting. Students gain valuable skills, have flexible working hours, and perform work that may relate to a future career.

Need Technical Support?
Reach out to the IT Service Desk
Get tech support from the IT Service Desk.
Information Technology Services
Healey Library, 3rd Floor
617.287.5220
ITServiceDesk@umb.edu