WPE Resources for Students
Writing Proficiency Exam Resources for Students
Announcements
To get access to the reading set and prompt, look for the registration confirmation message that was sent to you immediately after you were registered for the WPE. The link and password are in that message.
January 2024 WPE RESOURCES
TUTORING and DRAFT REVIEWS
Students who are registered for the WPE may schedule tutoring appointments using our scheduling system link on this page. We offer both in-person and remote (Zoom) appointments. We look forward to meeting with you!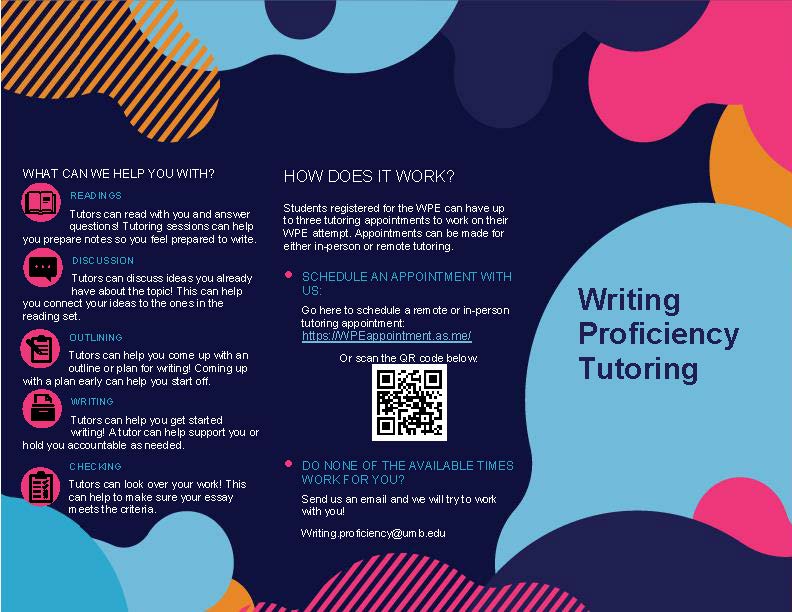 Handouts
Audio Version of the Reading Set (Check your email

–it will be in the weekly update sent on Fridays during each WPE cycle)

GRID NOTES
Workshop
WPE Workshop (coming soon): WPE general information, grading standards, submission process, and advice on how to answer the prompt
If you have any questions please phone or visit the Writing Proficiency Office. We are located in the Campus Center 1/1300; contact us by phone at 617.287.6330 or by email at writing.proficiency@umb.edu. We will make every effort to provide you with information, practical advice, tutoring, workshops, and support to help you meet this requirement in a timely way.